EastWest EveryDay Titanium Mastercard®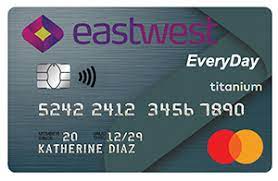 EastWest EveryDay Titanium Mastercard®
About credit card
EastWest EveryDay Titanium Mastercard® is ideal for users who frequently purchase goods from supermarkets, drug or gas stores. You will enjoy a 5% cash rebate on your daily purchases. For non-essential goods, you get the rebate if your daily spend hits ₱10,000. You can also earn reward points which are automatically redeemed and added to your balance when they hit ₱200.
Features
EastWest EveryDay Mastercard offers you an easy, secure, and convenient way to make purchases. You save up to 5% cash rebate, especially on your supermarket, drugstore, and gas purchases. You will be required to have a minimum annual income of ₱480,000 or ₱40,000 to be eligible for this card. The annual fee charged is ₱2,800.
The card is ideal for online and in-store purchases and is accepted worldwide. Cardholders enjoy a low foreign exchange conversion rate of 1.7% of the amount spent and many perks from partner merchants. In addition, the card has an EMV chip and contactless technology to ensure your funds are safe.
Pros and cons
EastWest EveryDay Mastercard has many benefits, especially when you need to buy essential goods. You need to know its advantages and disadvantages to determine whether it meets your daily purchasing needs.
Pros
You can use it to buy goods in physical stores and online.
You enjoy a low foreign currency conversion fee at 1.7% of total spend.
You earn 5% cash rebates on essential purchases and rewards for non-essential goods after you spend ₱10,000 or more.
You get special perks and privileges when purchasing products from partner merchants.
You enjoy up to nine supplementary cards to allow your loved ones to lead their desired financial life.
Cons
The bank charges a high ₱2800 annual membership fee for the principal card and ₱1400 for supplementary cards.
The bank charges ₱1500 to replace lost credit cards.
The bank has many pre-qualification requirements.
How to apply for an EastWest Everyday Mastercard®?
You can apply for the EastWest Everyday Mastercard® by visiting any EastWest branch. First, ask the customer service providers to give you an application form. Fill out the form, ensuring you enter the right information in every field. Attach proof of identification such as government issued ID bearing your photo or SSS and three latest payslips. If you are self-employed, add the BIR and submit your form for processing. You will receive feedback from the bank in 7 to 10 working days.
Annual maintenance
i
Annual maintenance cost of the financial product
This site is protected by reCAPTCHA and the GooglePrivacy Policy and Terms of Service apply.

Dear guest, please leave your feedback
Leave a review and get 20 FinCoins to your account!