EastWest Dolce Vita Titanium Mastercard®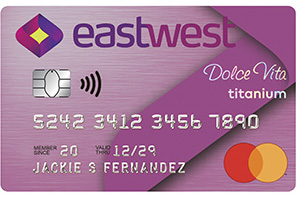 EastWest Dolce Vita Titanium Mastercard®
About credit card
The EastWest Dolce Vita Titanium Mastercard® allows you to go about your daily spending while accumulating points. Whenever you spend ₱100, you will earn one Charm. Upon accumulating enough Charms, you can redeem eGift Rewards and Charms Vouchers for merchandise or gift certificates at partner merchants. Additionally, you can use your Charms to donate to charitable institutions or waive your annual membership fee.
Features
Contactless payments. For enhanced card security and convenience, your Dolce Vita Titanium Mastercard® has an EMV smart chip and Mastercard PayPass. You will obtain a One-Time Password before completing any transactions on websites with the Mastercard SecureCode logo.
Balance transfer. The EastWest Dolce Vita Titanium Mastercard® allows you to make smaller monthly installments and save money when transferring the balances from your old credit cards. A processing fee of ₱250 for each accepted application submitted through EastWest Online, EastWest Mobile, or the EastWest System Tech Assistant is charged. You will also be charged ₱500 for each accepted application through EastWest Customer Service.
Bill payment. You can auto-charge your electric bill, phone, cable and internet subscriptions, and insurance premiums using the Dolce Vita Titanium Mastercard®.
Pros and cons
When considering whether to apply for the EastWest Dolce Vita Titanium Mastercard®, you need to know the advantages and disadvantages.
Pros
You can access your available credit limit, which can be converted into cash in fixed monthly installments using the Insta-Cash Facility.
You will be billed in Philippine Pesos regardless of where you make your purchases.
Cons
You will be charged a monthly interest rate of 2% or an effective annual rate of 24%.
You will be charged a ₱200 fee per cash advance request in addition to the 2% interest charged on the cash advance amount and the service fee.
How to apply for an EastWest Dolce Vita Titanium Mastercard®
You will need to first visit any EastWest branch to apply for the Dolce Vita Titanium Mastercard®. Request a credit card application form and complete it with accurate information. Then, make a photocopy of one valid ID, such as a passport or SSS card, as well as the most recent BIR or Form 2316, Certificate of Employment, and three months' pay stubs and present them along with your application.
Amount
i
Available amount by the financial product
Rate
i
Effective interest rate on the product
This site is protected by reCAPTCHA and the GooglePrivacy Policy and Terms of Service apply.

Dear guest, please leave your feedback
Leave a review and get 20 FinCoins to your account!