DBP ATM Visa Card®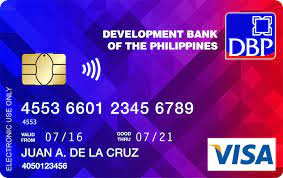 About debit card
The DBP ATM Visa Card® allows you to get cash when you need it. You can use your DBP ATM Visa Card® anywhere that Visa is accepted, including stores and restaurants. You can also pay for purchases with the card at any store that accepts Visa debit cards, and there are no fees for using it.
Features
The EMV chip in your ATM Visa Card® is there to help you. It's a smart chip that can detect and prevent fraudulent purchases, which means you're less likely to get your card compromised. The chip also makes it harder for hackers to steal your information so that you can shop with peace of mind. Also, the card has an online banking feature that allows you to monitor your account balance and transactions at anytime from anywhere.
Additionally, the DBP ATM Visa Card allows you to withdraw cash from local and international ATMs, making it perfect for all transactions. You can pay for goods and services via POS Terminals and IPGs through the BancNet and Visa networks. Therefore, you can use the ATM Visa Card® in any country with a BancNet or Visa network.
Pros and cons
When looking for a new credit card, it's easy to get caught up in the excitement of all the cool features. But before you sign up for your new favorite Visa ATM card, make sure you're aware of all the pros and cons. It might help you manage your money better.
Pros
The card won't need to be renewed soon because it has a five-year validity period.
The card is linked directly to your savings or current account so that all withdrawals will be deducted from your balance.
Cons
You can only withdraw or make point-of-sale purchases for a maximum of ₱20000 or five single transactions daily.
You can only make a maximum of payWave purchases of ₱2000 or 10 transactions daily.
How to apply for a DBP ATM Visa Card®?
You must visit your preferred DBP branch to apply for an ATM Visa Card®. When you arrive, tell the representative that you want to apply for a DBP ATM Visa Card®. Next, fill in your personal information on the application form, such as name, address, and date of birth. You also need valid identification documents like a passport, SSS, or ACR if you are not a Filipino citizen, as the details will be required. Finally, select the account to which you want to link the ATM Visa Card®. Once all the paperwork has been filled out, you will be informed about when your card will be ready for pick-up.
This site is protected by reCAPTCHA and the GooglePrivacy Policy and Terms of Service apply.

Dear guest, please leave your feedback
Leave a review and get 20 FinCoins to your account!