DBP Prepaid Card®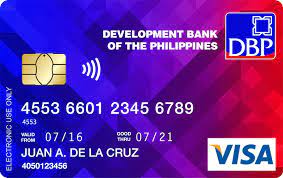 About debit card
DBP Prepaid Card® is a reloadable card that you can use to pay bills, get cash at any ATM, or even shop online. And the best part is that it's safe and secure, so you can rest easy knowing your funds are always protected.
Features
The DBP Prepaid Card® can be used to make purchases, send money to loved ones, and get cash from any ATM. You can use it anywhere Mastercard and Visa are accepted.The reloadable card does not attract any yearly charge too. The card has an EMV chip that requires a personal identification number (PIN) unique to you. The EMV chip also helps prevent fraud by creating a unique transaction code for each purchase.
You can use the card for cash withdrawals through local and international ATMs. You can also use the card for payment for goods and services via POS Terminals and IPGs through the BancNet and Visa networks. It is also non-interest earning, and the maximum card load value is ₱100,000. That's a lot of money to spend on your everyday expenses. Depending on your personal preferences, you can customize your card's design. The card also has a five-year validity period, so you will have plenty of time to use it.
Pros and cons
The DBP Prepaid Card® lets you load cash onto your card and use it anywhere that accepts debit or credit cards. You might want to consider its pros and cons before signing up. Here are some things to keep in mind.
Pros
You can use the DBP Prepaid Card® anywhere in the world that accepts MasterCard and Visa and can be used to withdraw money from ATMs.
You can add more funds or cash to the DBP Prepaid Card® even if you don't have a bank account.
Cons
The Philippine Deposit Insurance Corporation does not cover the funds in the DBP Prepaid Card® (PDIC).
The card fund balance is not entitled to earn any interest.
How to apply for a DBP Prepaid Card®?
Visit any DBP branch in your area to apply for a DBP Prepaid Card®. Then, follow these steps:
Head to the customer service desk and inform the representative that you must apply for the DBP Prepaid Card®.
The DBP banking representative will provide you with an application to complete.
Make sure that all of the information is genuine. The number on your passport or SSS card should match the number on your card. Failure to give accurate information may delay processing your card or even the rejection of your application form.
Hand over the form and the necessary documents to the agent.
Wait for notification when your pre-paid card is ready to be collected.
This site is protected by reCAPTCHA and the GooglePrivacy Policy and Terms of Service apply.

Dear guest, please leave your feedback
Leave a review and get 20 FinCoins to your account!