DBP ATM ID Card®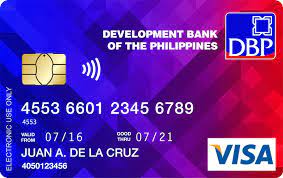 About debit card
A DBP ATM ID Card® is a versatile card with multiple uses that connects you to a savings or checking account. It serves as your company's ID card and payroll ATM card. The card incorporates data that directly links your employees to you when they apply for it.
Features
Payroll deposits can be made directly into your employees' accounts using the DBP ATM ID Card®. It is a straightforward approach to speed up the procedure and guarantee that your employees always get their paychecks on time. Additionally, by doing away with the need to distribute and store checks, you can free up time in your day to concentrate on what matters: growing your business.
You can pay for products and services using POS terminals or IPGs that are a part of the BancNet network, thanks to the payment for goods and services functionality. You can also make payments, deposits and check your account balance. The card will always bill you in pesos for payments. As a result, you don't need to worry about the fees associated with foreign currency exchange.
The card can also be used for travel, shopping, and dining. As you swipe your card at various POS, you don't need to be concerned about your personal information leaking out. The EMV chip will keep all of your personal information secure. Every time you complete a transaction, you must enter a PIN that only you know.
Pros and cons
If you own a business and need to reduce the time you take processing recurring payments like wages, the DBP ATM ID Card® may be helpful. However, before linking your current account to this DBP card, you should consider the drawbacks.
Pros
Your funds are insured by the PDIC for up to ₱500,000.
Your card has no expiration date. As a result, you may use it for as long as you see fit.
Cons
DBP ATM ID Card® disadvantages include:
The card requires a minimum maintaining balance of ₱100.
The card can only support a maximum of ten transactions or ₱2000 per day at payWave.
How to apply for a DBP ATM ID Card®?
You can only apply for a DBP ATM ID Card® at the branch as follows:
Walk into any DBP branch and inform the banking agent or customer care that you need to apply for an ATM ID Card®.
You will be given an application form that you must fill with genuine information.
Then, attach any required documents, like your business registration documents.
Wait for communication on whether your ATM ID Card® application has been approved and when you can pick it up.
This site is protected by reCAPTCHA and the GooglePrivacy Policy and Terms of Service apply.

Dear guest, please leave your feedback
Leave a review and get 20 FinCoins to your account!