Shell Citi Card®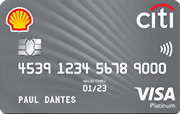 About credit card
For the first time, Pilipinas Shell, Citibank, and Visa have joined together to offer motorists generous discounts with every Shell fuel purchase. The new Shell-Citi Visa co-brand Gasoline Citi credit card enables Filipino motorists to save even more money on Shell gasoline and other Shell transactions.
The new Shell Citi card gives a 5% reward on Shell gasoline sales, a 0.5% refund on non-fuel expenditures, and a 5% to 10% rebate on change oil, accessories, and services nationwide at Shell Helix facilities, free roadside assistance anytime required.
Features of Shell Citi Card®
Below are the features of this card:
Shell fuel purchases rebate. Your Shell Citi card is a good partner for your regular trips, whether for personal or professional reasons. You will earn up to 5% cash credits when you fill up at Shell petrol stations and pay for it using your Shell Citi card.
Tollgate spends rebate. Do you frequently go outside of Metro Manila? Then you understand how costly toll gate credits may be. Pay for your easy trip and auto sweep toll load purchases to your Shell Citi card to earn an additional 5% cashback.
Auto repairs rebate. Having a car also means being prepared to spend a lot of money on upkeep and repairs. If your automobile ever has to be fixed, replaced or maintained, you can use your Shell Citi card to obtain a 5% rebate on Shell fuel purchases.
Yearly savings. With all of the incentives available with your Shell Citi card, you may save up to $15,000 on automobile expenditures. You'll also save 10% on Shell Helix oil service bundles and up to 10% on Booking.com accommodations.
Pros and cons of the Shell Citi Card®
If you are considering getting this card, it is essential to note the below pros and cons.
Pros
The card offers users a ₱300 Shell gasoline refund on their first Shell purchases of at least ₱300 in Shell petrol.
The Shell Citi platinum cardholders receive 24/7 emergency breakdown cover once a calendar year.
The card can be used at any gas station in the Philippines.
There are no minimum spend requirements.
The card comes with a welcome gift.
Cons
The users can only earn Shell fuel rebates at Shell gas stations and not store spending.
The card has many fees like the yearly membership charge for the primary cardholder, which is ₱2,500 (₱2,800 for Shell Citi platinum exclusives) and ₱1,200 (₱1,400 for platinum) for the supplementary cardholder, toll fees, annual fee, etc.
The card application can take up to 10 consumer banking business days before the bank representatives can verify your application.
How to apply for the Shell Citi Card®?
You can apply for this card in many ways, but below are the steps to apply for it through the Citibank website:
Visit the Citibank official website.

Click on Credit cards and then Rebates.

Click on Visa, and then under Visa, you click on Cashback and select the Shell Citi card.

Go down and click on Apply now. Select if you are a principal credit card holder with another bank or not.

Select if you have your up-to-date payslip or ITR and two valid IDs or not.

Select if or not your minimum annual income is up to ₱250,000.

Input your correct personal and contact details and then click on Begin application.

Follow all the onscreen steps carefully to complete your card application.
Before applying for the card, check below to see if you are eligible for one:
Eligibility criteria
Applicants must be at least 21 years old (supplementary holders must be at least 23 years old)

Applicants must have an active landline number

Applicants must have an annual minimum income of ₱180,000 (₱250,000 for supplementary holders)

Applicants with an existing Citibank credit card must have owned it and been active for the last 12 months

Applicants must have a Citi deposit account.
Required documents
Valid TIN, SSS, or UMID number

Proof of income

Latest income tax return

Latest one-month pay slip

Payroll account bank statement

Government-issued ID.
This site is protected by reCAPTCHA and the GooglePrivacy Policy and Terms of Service apply.

Dear guest, please leave your feedback
Leave a review and get 20 FinCoins to your account!