Mercury Drug Citi® Card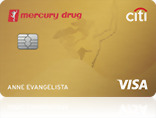 About credit card
If you buy pharmaceuticals on a daily basis, we all know how difficult it may be to do so these days. Fortunately, one of the large pharmacies, such as Mercury Drug, allows you to order and pay for your products online.
If you're searching for a credit card that rewards you for your health and wellness purchases, you may consider the Mercury Drug Citi rewards card. Let's see if this Citibank credit card is worth its features, bonuses, and rewards.
Features of
Mercury Drug Citi® Card
Below are some features that comes with owning this card:
Rewards. Users receive 1 reward point for every ₱200 spent anywhere. However, 1 reward point is equal to ₱200. Health and wellness transactions, such as clinics, gyms, spas, salons, and hospitals, give you 3x rewards points. Furthermore, both physical and online overseas transactions earn you 3x rewards points.
Other features. In addition to earning up to 5x rewards points, this credit card offers extra benefits such as free emergency services once a year (worth ₱10,000) inside Metro Manila.
Pros and cons
Below are some pros and cons that come with this card.
Pros
The can offers reward points per usage.
The card users also get free ambulance emergency services.
Cons
The annual maintenance fee is high.
There are many fees and charges.
How to apply for the
Mercury Drug Citi® Card?
Follow the steps below to apply for this card:
Visit the CitiBank website
Click on Credit cards and then click on View all credit cards.
Click on Rewards, Visa, and then Rewards again, under Visa.
Click on Apply now, under the Mercury Drug Citi® Card.
Select if you do or you do not have a principal card with another bank.
Select if you do or you do not have any of the listed documents.
Choose if your annual income is below or above ₱250,000.
If you are eligible, the application form will be displayed, if not, you would need to meet all the eligibility requirements before continuing.
Fill up your personal details and click on Begin application.
Follow the on-screen directives to complete your application.
Before applying, you must meet these requirements:
Eligibility requirements
Applicants must:
Have an active landline.
Be at least 21.
Have a minimum income of ₱250,000 a year for principal card holders and ₱180,000 a year for subsequent holders.
Documentary requirements
Applicants must have:
Valid government issued ID card.
Proof of income.
This site is protected by reCAPTCHA and the GooglePrivacy Policy and Terms of Service apply.

Dear guest, please leave your feedback
Leave a review and get 20 FinCoins to your account!