Citi Simplicity+ Mastercard®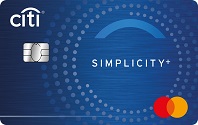 Citi Simplicity+ Mastercard®
About credit card
The Citi Simplicity+ Mastercard is a credit card issued by Citi Bank that may be used to pay down debt or fund a significant purchase; however, it is not always the best option for either. Its distinguishing feature is a lengthy 0% introductory APR term for balance transfers. This might make it a smart alternative for consolidating current debt, but it receives no benefits.
Features
Below are some of the features of this card:
No late payment fees. You may find it more difficult to make credit card payments on time during these financially difficult times.
City Bank perks. Take advantage of bargains and discounts both locally and in 90 other countries.
10% cash back. Citi simplicity+ Mastercard encourages responsible credit cardholders who pay their regular outstanding bills on time or early by giving you 10% return.
Pros and cons
Consider these pros and cons before applying for this card:
Pros
The card does not have annual fees or charges.
The card offers a 0% initial APR on balance transfers for 21 months from the time of the first transfer and a 0% intro APR on transactions for 12 months from the date of account activation.
Cons
The card does not have any reward program.
The card investigates your credit history and requires excellent history.
How to apply for the
Citi Simplicity+ Mastercard®?
Follow the steps below to apply for this card:
Click on Credit cards and then click on View all credit cards.
Click on Mastercard, go down to locate the simplicity+ Mastercard.
Click on Apply now, under Citi Simplicity+ Mastercard.
Select if you do or you do not have a principal card with another bank.
Select if you do or you do not have any of the listed documents.
Choose if your annual income is below or above ₱250,000.
If you are eligible, the application form will be displayed, if not, you would need to meet all the eligibility requirements before continuing.
Fill up your personal details and click on Begin application.
Follow the on-screen directives to complete your application.
Before applying you must meet these requirements:
Eligibility requirements
Applicants must:
Have an active landline.
Be at least 21.
Have a minimum income of ₱250,000 a year for principal card holders and ₱180,000 a year for subsequent holders.
Documentary requirements
Applicants must have:
Valid government issued ID card.
Proof of income.
This site is protected by reCAPTCHA and the GooglePrivacy Policy and Terms of Service apply.

Dear guest, please leave your feedback
Leave a review and get 20 FinCoins to your account!