Citi Rewards Visa Card®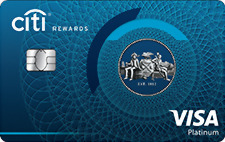 About credit card
The Citi Rewards Visa card's 2X ThankYou points on grocery and gas station purchases may not appear to be the most profitable reward program at first glance, but the card's point roundup function on every purchase and 10% points back add up to make this one of the finest cards if you frequently make little purchases.
Features
Below are the features of this card:
You get to earn a reward point for every ₱30 you spend.
You get thrice this point when you shop, dine, or book a ticket with Cebu Pacific.
You can use your points to redeem free airplane tickets, stays in hotels, or merchandise.
You can also use your points to pay for both online and offline purchases at partner merchants.
Pros and cons
The card has its own set of benefits and drawbacks that should be considered before deciding whether or not to apply for it. Below are some of them.
Pros
The points received on each purchase are rounded up to the closest ten.
The card allows you to receive 10% back on the first 100,000 points redeemed each year.
Cons
There are few benefits aside from the ThankYou point features.
The card only allows users to earn basic ThankYou points that cannot be transferred to travel partners.
How to apply for the
Citi Rewards Visa Card®?
Follow the steps below to apply for this card:
Visit the CitiBank website.
Click on Credit cards and then click on View all credit cards.
Click on Visa, go down to locate the rewards Visa.
Click on Apply now, under Citi Rewards Visa Card®.
Select if you do or you do not have a principal card with another bank.
Select if you do or you do not have any of the listed documents.
Choose if your annual income is below or above ₱180,000.
If you are eligible, the application form will be displayed, if not, you would need to meet all the eligibility requirements before continuing.
Fill up your personal details and click on Begin application.
Follow the on-screen directives to complete your application.
Before applying you must meet these requirements:
Eligibility requirements
Applicants must have an active landline.
Applicants must be at least 21.
Applicants must have a minimum income of ₱250,000 a year for principal card holders and ₱180,000 a year for subsequent holders.
Documentary requirements
Applicants must have a valid government issued ID card.
Applicants must have a proof of income.
Applicants must have a bank statement, shown their names and their account statement for the last month.
This site is protected by reCAPTCHA and the GooglePrivacy Policy and Terms of Service apply.

Dear guest, please leave your feedback
Leave a review and get 20 FinCoins to your account!