Citi Prestige Visa Card®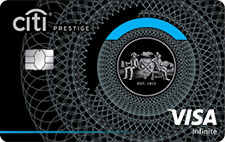 About credit card
The Citi Prestige credit card is a high-end lifestyle credit card that offers air miles and loyalty points. Users get free nights at affiliated hotels, free rounds of golf, free premium pass entrance to airport lounges, accelerated immigration at airports, and much more.
Features
Features of the card includes:
Complementary benefits. Users receive a complimentary fourth night free at any hotel booking made through the concierge twice per calendar year, complimentary prioritized passTM membership for primary cardholders with unrestricted access to over 1,000 VIP airport lounges globally, and complimentary airport meet and assist assistance and one-way premium airport transfers at selected airports twice per calendar year.
ThankYou points. Users receive five times the ThankYou points for local eating, shopping, and any foreign currency purchases.
Pros and cons
Below are some pros and cons of this card.
Pros
The card has many complementary benefits.
The application is online and stress free.
Cons
The card has a maintaining balance.
There are fees and charges associated with the card.
How to apply for the
Citi Prestige Visa Card®?
Follow the steps below to apply for this card:
Visit the CitiBank website.
Click on Credit cards and then click on View all credit cards.
Click on Rewards, Visa, and then Rewards again, under Visa.
Click on Apply now, under the Citi Prestige Visa Card®.
Choose if you have or do not have a primary card with another bank.
Select if you do or you do not have any of the listed documents.
Choose if your annual income is below or above ₱250,000.
If you are eligible, the application form will be displayed, if not, you would need to meet all the eligibility requirements before continuing.
Fill up your personal details and click on Begin application.
Follow the on-screen directives to complete your application.
Before applying, you must meet these requirements:
Eligibility requirements
Applicants must:
Be at least 21.
Have a minimum income of ₱250,000 a year for principal card holders and ₱180,000 a year for subsequent holders.
Documentary requirements
Applicants must have:
Valid government issued ID card.
Proof of income.
This site is protected by reCAPTCHA and the GooglePrivacy Policy and Terms of Service apply.

Dear guest, please leave your feedback
Leave a review and get 20 FinCoins to your account!