Citi Cashback Visa Card®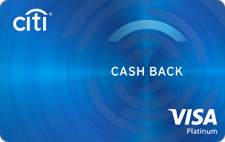 About credit card
If you spend at least ₱1,000 each month, the Citi Cashback Visa Card® is one of the finest cashback credit cards in the Philippines, offering up to 8% refunds on dining, grocery, and gasoline. The rebates earned will be credited as cashback instantly, which is ideal for individuals searching for a hassle-free card.
Features
Below are the features of this card:
Cashback. With the Citi Cashback Visa Card®, you can get up to 6% cashback on purchases made at the supermarkets, up to 2% cashback on Meralco bill payments that are done through Citibank online, and 0.20% cashback on all the other purchases.
Savings. You can have a yearly savings which can be as much as ₱15,000 in per year.
Online features. You can pay your expenses with Citi one bill® and make payments normally made through a local bank account with Citi the PayAll.
Online shopping. Use your Citi Cashback card to get exclusive online shopping bargains and have your purchases delivered to you.
Pros and cons
Check out these pros and cons before applying for this card.
Pros
There are no late payment fees or charges with this card.
There is no maintenance balance.
Cons
The card does not have a welcome bonus or reward structure.
The balance transfer fee and percentage are very high.
How to apply for the Citi Citi Cashback Visa Card®?
Follow the steps below to apply for this card:
Visit the CitiBank website.
Click on Credit cards and then click on View all credit cards.
Click on Visa, go down to locate the simplicity+ Visa.
Click on Apply now, under Citi Cashback Visa Card®.
Select if you do or you do not have a principal card with another bank.
Select if you do or you do not have any of the listed documents.
Choose if your annual income is below or above ₱250,000.
If you are eligible, the application form will be displayed, if not, you would need to meet all the eligibility requirements before continuing.
Fill up your personal details and click on Begin application.
Follow the on-screen directives to complete your application.
Before applying, you must meet these requirements:
Eligibility requirements
Applicants must:
Have an active landline.
Be at least 21.
Have a minimum income of ₱250,000 a year for principal card holders and ₱180,000 a year for subsequent holders.
Documentary requirements
Applicants must have:
Valid government issued ID card.
Proof of income.
This site is protected by reCAPTCHA and the GooglePrivacy Policy and Terms of Service apply.

Dear guest, please leave your feedback
Leave a review and get 20 FinCoins to your account!