Citi CashBack Mastercard®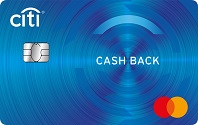 Citi CashBack Mastercard®
About credit card
Citi Cashback credit card allows you to take advantage of a variety of cashback bonuses on all transactions made with the card. You may also get special EMI deals on a selection of items both online and in shops. The yearly charge or joining fee for the Citi Cashback credit card is disclosed at the time of sourcing.
Features of Citi Cash Back Mastercard®
Below are some of the features of the Citi Cashback Mastercard:
Cashback. With the Citi Cashback Mastercard, you can get up to 6% cashback on purchases made at the supermarkets, up to 2% cashback on Meralco bill payments that are done through Citibank online, and 0.20% cashback on all the other purchases.
Savings. You can have a yearly savings which can be as much as ₱15,000 in per year.
Online features. You can pay your expenses with Citi one bill® and make payments normally made through a local bank account with Citi the PayAll.
Online shopping. Use your Citi cash back card to get exclusive online shopping bargains and have your purchases delivered to you.
Pros and cons
Check out these pros and cons before applying for this card.
Pros
The card has good dining and groceries rewards.
The card's application is done online, you don't have to go to the bank branch.
Cons
The card lacks entertainment and shopping rewards.
The card is not suitable for users on a lower budget.
How to apply for the
Citi Cash Back Mastercard®?
Follow the steps below to apply for this card:
Visit the CitiBank website.
Click on Credit cards and then click on View all credit cards.
Click on Mastercard, go down to locate the cash back Mastercard.
Click on Apply now, under Citi Cash Back Mastercard®.
Select if you do or you do not have a principal card with another bank.
Select if you do or you do not have any of the listed documents.
Choose if your annual income is below or above ₱180,000.
If you are eligible, the application form will be displayed, if not, you would need to meet all the eligibility requirements before continuing.
Fill up your personal details and click on Begin application.
Follow the on-screen directives to complete your application.
Before applying you must meet these requirements:
Eligibility requirements
Applicants must:
Have an active landline.
Be at least 21.
Have a minimum income of ₱250,000 a year for principal card holders and ₱180,000 a year for subsequent holders.
Documentary requirements
Applicants must have:
Valid government issued ID card.
Proof of income.
This site is protected by reCAPTCHA and the GooglePrivacy Policy and Terms of Service apply.

Dear guest, please leave your feedback
Leave a review and get 20 FinCoins to your account!