China Bank World Mastercard®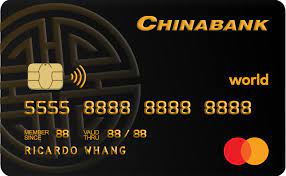 China Bank World Mastercard®
About credit card
Cardholders can use their China Bank World Mastercard to make offline and online purchases. You can use the World Mastercard at a point-of-sale (POS) machine where you swap cards to pay for goods and services.
Features
You can use China bank Mastercard worldwide to pay for goods and services. You earn a reward point for every ₱25 you spend which you can redeem by contacting China Bank. You get more benefits when you pay for your travel expenses with your card. These benefits include having access to a specialized, high-end lifestyle concierge for an airport lounge, golf course, hotel, and vehicle rental fees. You have access to full travel insurance coverage up to ₱20,000,000 as well. Additionally, as you wait for your trip, you can relax at select airport lounges.
Pros and cons
China Bank World Mastercard is accepted worldwide at all Mastercard-affiliated merchants. The card can also be used at contactless POS. However, the Mastercard has additional benefits as well as some drawbacks that you should consider before becoming a cardholder. These includes:
Pros
You will receive interest-free credit if you pay your statement balance in full before the due date.

You enjoy discounts and freebies at participating businesses.

You are issued a virtual card to use for online transactions.

You have access to the benefits of primary cardholders even if you have a supplementary card.

You are notified through SMS when a transaction is made with your card, which helps to protect you against scammers.

You can access various payment channels, including the over-the-counter, mobile app, and Bancnet.
Cons
You must pay an annual membership fee of ₱6000.

You are charged a 2% financing charge per month.

You must pay a 2.5% transaction fee when you transact in foreign currency.
How to Apply for a China Bank World Mastercard?
If you are qualified to apply for the China Bank World Mastercard, you can apply for it in the following steps.
Visit the China Bank website
Scroll down and, on the left, select Credit Cards.
Navigate to World Mastercard, then click Apply now.
Click on Credit Card Application Form to download.
Fill out all the fields in the form and sign it.
Scan the copy you have filled out with your government-issued ID bearing your photo, signature, and other documents to cardsales@chinabank.ph
China Bank will process your application within 10-15 days
This site is protected by reCAPTCHA and the GooglePrivacy Policy and Terms of Service apply.

Dear guest, please leave your feedback
Leave a review and get 20 FinCoins to your account!