Petron-BPI Mastercard®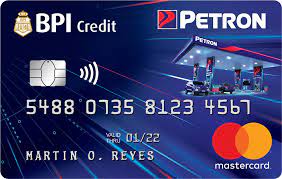 About credit card
You can fuel your car and accrue rewards with this partner's credit card at Petron stations approved by the BPI. However, you will only earn rebates on Petron fuel purchases, which will be automatically reimbursed to your credit card account on the next billing cycle as a cash credit.
Features
The BPI Petron card comes with a free ₱200 fuel voucher as a welcome gift. You also earn 3% fuel cash back at BPI-accredited Petron stations nationwide for a maximum of ₱15,000 per year. You can also reduce costs by accessing the Special Installment Plans (SIP). These plans let you enjoy Real 0% SIP interest installments with partner stores. For those Petron stores without Real 0% SIP, you can pay in installments with low add-on rates. You may also use up to 100% of your credit limit for installment purchases when you buy online and pay in 0% interest installments.
Moreover, you have access to Buy Now Pay Later, a SIP in which the first installment payment is charged three months after the date of purchase. The costs are then billed monthly until the entire transaction amount has been paid. Additionally, you will receive a bonus installment credit limit equivalent to 100% of your available credit line.
Pros and cons of BPI Blue Mastercard
The Petron-BPI Mastercard has many exclusive perks that make fueling easier and affordable. However, the Petron card also has a few drawbacks that you need to consider.
Pros
You use your Petron-BPI Mastercard every time you gas up at any BPI-accredited Petron station nationwide and earn rebates.
You will receive a ₱200 fuel voucher as a welcome gift.
Cons
You must pay an annual membership fee of ₱1,550 or ₱775 if you use it as a second supplemental card.
You will pay a 2% finance charge for each cash advance transaction.
You will be required to pay ₱100 for every returned check and an additional 6% of the check amount.
How to apply a credit card?
You can apply for a credit card through BPI Express Online BPI Mobile App. To apply for the Petron-BPI Mastercard using the BPI Mobile App:
Go to your phone's app store like Google Play, the App Store, or AppGallery.
Search and install the BPI Mobile App.
Click Register Now.
Select Petron-BPI Mastercard.
Enter your customer number.
Fill in the correct details.
Take a moment to read and comprehend the terms and conditions.
Click Submit.
You will receive a confirmation message once your credit card application has been verified and approved.
This site is protected by reCAPTCHA and the GooglePrivacy Policy and Terms of Service apply.

Dear guest, please leave your feedback
Leave a review and get 20 FinCoins to your account!