BPI Visa Signature Card®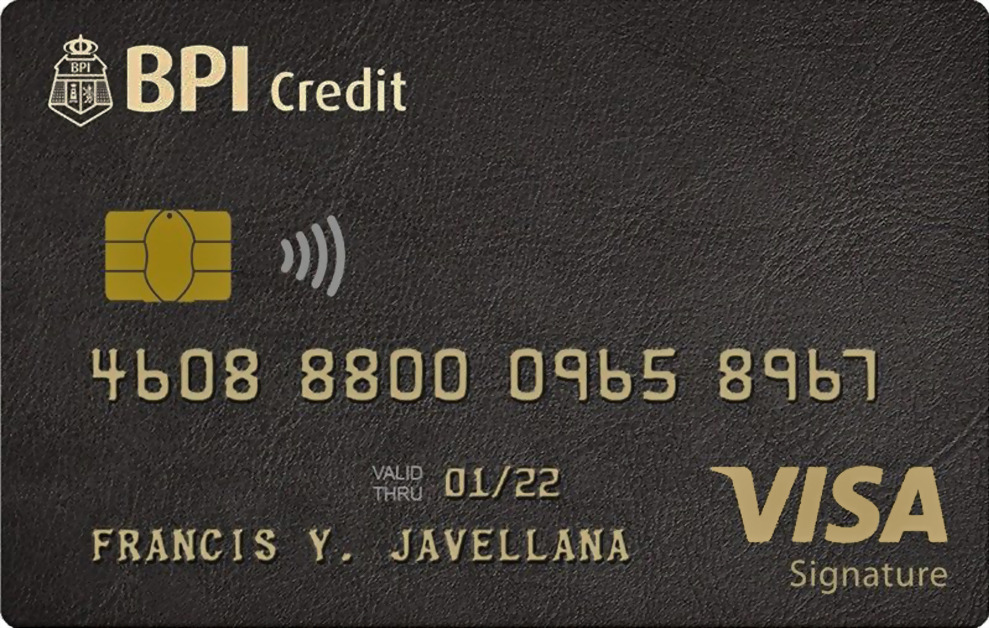 About credit card
The Visa Signature credit card from BPI, which made its debut in 2018, is aimed at affluent users who appreciate traveling and finer things like premium dining and shopping. With this BPI credit card, you can access unique features like travel insurance and an around-the-clock concierge. You also receive reward points for every peso or foreign currency spent.
Features of the BPI Visa Signature credit card
The BPI Visa Signature Card has various advantages that make it appealing for foreign travel. You can benefit from the following features:
Enjoy special year-round discounts of 50% on dining, hotel, leisure, and at wellness centers when you use this BPI credit card to make payments.
Earn one reward point when you spend ₱20 at partner merchants and redeem your points for exclusive merchant gift cards, shopping credits, or travel miles.
Enjoy year round deals from upscale hotels, a 24/7 international concierge, and airport transfer services. You can also get gift certificates to pay part or all of your travel expenses.
Get up to ₱20,000 in travel insurance for accident and inconvenience compensation when you use your BPI Visa card to make your flight, land, or sea travel reservations.
Enjoy low foreign exchange rates of about 1.85% when you pay, send money, or want to shop abroad with this card, which complements savvy travelers.
Take advantage of exclusive privileges, deals, dining, retail, and lifestyle offers from partners including GlobeTelecom, Ayala Land, AC Motors brands, Ayala malls, Discovery Hotels, one El Nido Souvenir, ARC concierge, and Ayala Hotels and Resorts by logging into the Ayala Rewards Circle (ARC). You also are eligible to join the program, but you are not registered in ARC by default. Therefore, you must register for ARC to enjoythese advantages.
Pros and cons
The Visa Signature from BPI is regulated by the Bangko Sentral ng Pilipinas, which lets you enjoy what the world has to offer as you accrue extra points for purchases that you may then redeem. You also earn rewards for money you spend at eligible merchants. However, you should know what you are getting into, including whether you can afford the associated costs, such as annual fees. Additionally, you should keep in mind the benefits and disadvantages of having a BPI Visa Signature Card before you begin using them. Some of the benefits and drawbacks of using the card include the following:
Pros
You benefit from having one of the lowest 1.85 % FX conversion rates.
You can receive savings of up to 50% at upmarket restaurants, including Tuantuan Chinese Brasserie, Lugang Café, The Bistro Group, Bistronomia, and Hilton Manila.
You may enhance your travel experience while benefiting from excellent savings and privileged access to global services like a global concierge.
Cons
The BPI card has a ₱5,500 annual fee after the first year.
The cashback card is designed for savvy shoppers and frequent travelers, not low-income individuals who cannot afford to travel frequently.
How to apply a credit card?
To apply for the BPI Visa Signature Card online, follow these steps:
Choose Credit Cards by clicking Cards on the home page.
Select APPLY NOW.
Follow all the instructions and provide accurate information in the designated fields.
Wait for a notification stating that your application was submitted successfully and that BPI is reviewing the data.
You can also check the status of your credit card application via BPI branches, online, or phone banking. To check online, you must be a registered user of online banking. Then, on your account, go to Other Services, click on the Application Status Inquiry, and, finally, Credit Card. To use phone banking, call their 24 hour BPI contact center at 632 889-10000. Then, pick Option 2 for credit card, followed by option 2 again for Credit Card Application Status Inquiry. Provide your 10-digit application ID number over the phone to obtain your application status.
This site is protected by reCAPTCHA and the GooglePrivacy Policy and Terms of Service apply.

Dear guest, please leave your feedback
Leave a review and get 20 FinCoins to your account!