BPI Platinum Rewards Mastercard®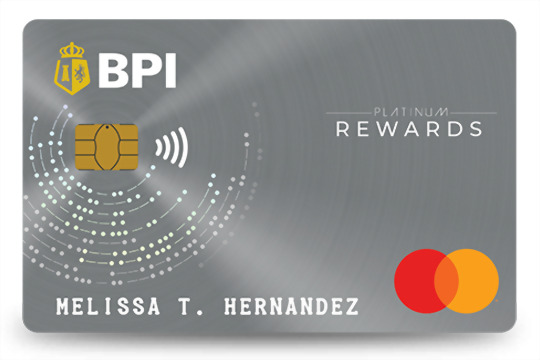 BPI Platinum Rewards Mastercard®
About credit card
The BPI Platinum Rewards Mastercard elevates your spending thanks to its rich rewards program, which you can use and redeem anywhere in the world. The Mastercard allows you to earn benefits with no minimum spend as you gain one reward point for every ₱30 spent locally. Because the card also provides purchase protection, it makes your spending experiences more enjoyable, and you can shop confidently as your products are in safe hands.
Features
The BPI Platinum Rewards Mastercard lets you earn rewards points even though it attracts an annual fee and interest, just like loans do. The BPI Mastercard enables you to earn points you can use as cash advance, especially during a promo period. You can also use your BPI credit to earn one never-expiring real Thrills Rewards Premium point for every ₱20 spent on foreign transactions online and abroad.
Then, with the points you accumulate, you can redeem rewards for shopping, dining, or miles. You can also enjoy BPI credit card promos like converting 7,000 Real Thrills Rewards Premium points to get ₱1,000 shopping credits for your purchases.
For miles, you can redeem your points at BPI's 54 airline partners and get free flights. You can also enjoy 0% installment on airline tickets for up to six months when you purchase your travel ticket using your card. Additionally, you get free travel insurance of up to ₱10 million when you use this card to pay while traveling via air, land, or water.
You also acquire protection insurance for your purchases from theft and unintentional damage for up to 180 days, up to $500 per claim annually. Additionally, you get access to a 24-hour BPI Contact Center with your cashback card and over 3,800 luxurious properties with complimentary benefits such as breakfast, room upgrades, early check-ins, or late check-outs. You also get free lounge access at over 1300 airports worldwide with a complimentary Priority Pass membership.
Pros and cons of BPI Platinum Rewards Mastercard
BPI credit cards are one of the most convenient methods of making purchases. They are available worldwide and provide a variety of rewards points that make them suitable for large and small in-store or online purchases. However, before you can apply for this card, you need to be aware of the advantages and disadvantages.
Pros
The platinum card enables you to build your credit score. You'll be taking on debt, so it's important that you do it responsibly and pay off your balance in full every month.
The credit card has various benefits, like cash back rewards and easy access to funds.
The credit card may be used anywhere, making it ideal for emergencies or vacations.
Cons
Your credit card has a spending limit determined by your payment ability and credit score.
Your credit score might be affected if you fail to make timely payments.
Your card attracts annual fees of ₱4,000 if it is your primary one and ₱2,000 if you have another card like the BPI Gold Mastercard, BPI Blue Mastercard, BPI Visa Signature card, BPI Edge, or Amore Cashback.
Your card attracts a 2% finance charge and nominal interest rate.
How to apply for the BPI credit card?
For this BPI credit card application, you must be above 21. You must also present a photocopy of at least one valid ID, such as a passport, driver's license, voter ID, or company ID, with front and back photographs. Additionally, you must also present evidence of your income, whether employed or self-employed, or a copy of a credit card statement from other banks.
Then, follow these steps to submit an online application to start enjoying rewards like discounts and free travel insurance :
On the home page, click Cards to select Credit Cards.
Choose BPI Platinum Rewards Mastercard.
Tap APPLY NOW.
Fill out each of the necessary fields as prompted.
Then, when it's time to pick up your credit card at a BPI branch, you'll be alerted via the email address you provided.
Payment system
i
Type of the bank card payment system
Elevate to a platinum rewards experience like no other.
Features
Php 30 local spend or Php 20 spend on any foreign transaction online and abroad = 1 Real Thrills Rewards Premium point
All-year-round Real 0% Installment on airline tickets up to 6 months
Free Priority Pass membership for global airport lounge access, with up to 4 free passes
Free travel insurance of up to Php 10 Mn
Purchase Protection up to 180 days
Access to Mastercard® Travel and Lifestyle Services
This site is protected by reCAPTCHA and the GooglePrivacy Policy and Terms of Service apply.

Dear guest, please leave your feedback
Leave a review and get 20 FinCoins to your account!