BPI Gold Mastercard®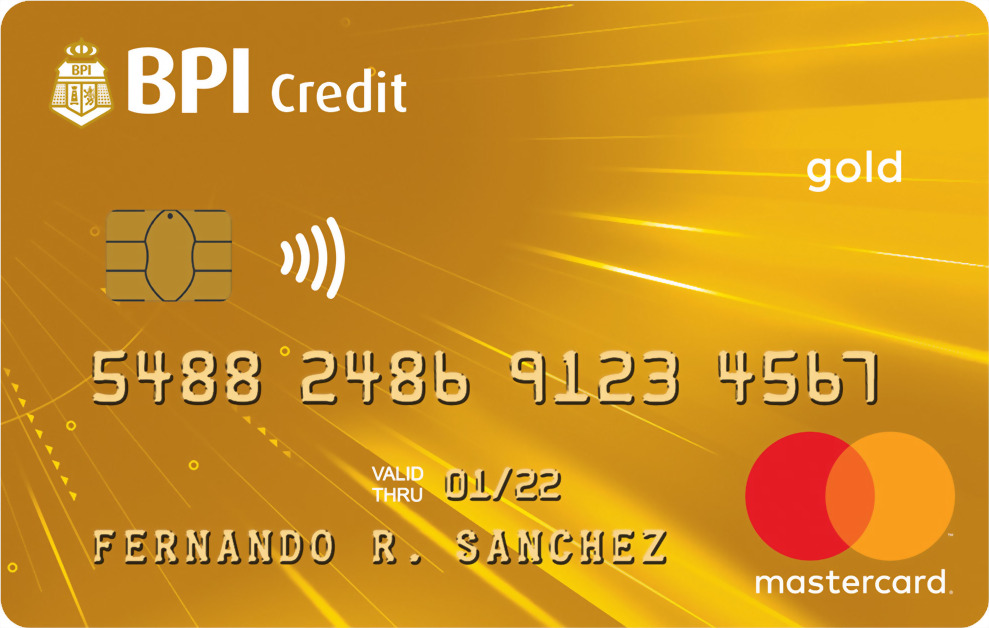 About credit card
The BPI Gold Mastercard helps you maintain your premium lifestyle as you can use the card to get year-round exclusive perks and freebies from your preferred retailers. You also have the option to pay in installments at participating petrol stations, shopping malls, and online stores. The BPI card also allows you to access dining vouchers, free travel insurance coverage, withdraw cash, and year-round perks at the Ayala malls.
Features of the BPI Gold Mastercard
You get exclusive discounts at gadget shops, restaurants, shopping stores, online purchases, and other local spend that you can use to pay for your other fees like annual membership costs or hospital bills. As you use your available credit limit, you will also gain access to attractive deals and more rewards. Then, for every ₱35 spent, you earn one reward point, which you can redeem for gift vouchers, shopping credits, or airline miles.
You can also exchange 18,000 real thrills rewards points for a ₱1,000 SM Gift Pass. Additionally, you can redeem 9,600 RTR premium reward points for a ₱1,000 Rustan gift voucher or 7,000 RTR premium rewards points for ₱1,000 in shopping credits. You can also pay in installments over up to 36 months by converting your credit limit to cash. Besides that, you can use a cash advance to withdraw up to 70% of your available credit. To access cash advance at a BPI ATM, select Cash Advance, then click Withdraw. Enter your Cash Advance PIN and confirm whether you want a receipt (CAPIN). After that, input the amount you wish to withdraw as a cash advance.
You can not only get cash advances but also use your card abroad to get forex conversion rates of just 1.85%. You can use installment options to extend your payment terms up to 36 months. In addition, eligible stores offer a Real 0% Special Installment Plan (SIP). You can also use BPI's Buy Now Pay Later option to postpone your payments. You can also boost your spending power by earning an additional installment credit limit of 100% of your usual credit line. Finally, you can use your BPI gold card to purchase flights and receive free travel insurance worth up to ₱10,000,000. However, you must be 69 years of age or younger at the time of travel to qualify for travel insurance.
Pros and cons of a BPI Gold Mastercard
The BPI Gold Mastercard has various benefits as it lets you redeem exciting rewards while protecting your money and identity. Like the other cards — BPI Amore Visa Platinum, BPI Edge Mastercard, and BPI Blue Mastercard — you can access all online banking capabilities while making secure payments. However, you need to consider the drawbacks too.
Pros
The BPI premium credit card offers a variety of rewards with no annual fee for the first year.
The BPI credit card can help you pay off your debt faster and save on interest payments when you use your cashback.
The BPI credit card is ideal for travelers who want to save money while exploring the world and access free insurance.
Cons
You get a free annual fee for the first year but pay ₱2,250 for the subsequent years.
Your credit score will decline if you do not fully pay off your credit card balances.
How to apply for a Gold Mastercard credit card?
You must submit proof of identity to apply for the BPI credit cards online. The proof of identity includes a driver's license, passport, SSS card, GSIS ID, BIR card, PRC ID, postal ID, or company ID issued by a private institution registered with the Bangko Sentral ng Pilipinas (BSP) or Securities and Exchange Commission (SEC). You must also present proof of income like your payslip or current bank statements. Then to apply for a BPI Gold Mastercard online, follow these steps:
Select Cards.
Choose Credit Cards.
Tap BPI Gold Mastercard and then APPLY NOW.
Fill out all required fields and wait to be notified when your application has been verified and approved.
Discover a world of endless rewards with a BPI Gold Mastercard. Enjoy exclusive perks and premium privileges.
Features
Php 35 spend = 1 rewards point
Year-round perks and discounts
Up to 36 months installment terms
Low forex conversion rate of 1.85%
Free travel insurance up to Php 10 Mn
Access to instant cash
This site is protected by reCAPTCHA and the GooglePrivacy Policy and Terms of Service apply.

Dear guest, please leave your feedback
Leave a review and get 20 FinCoins to your account!