BPI eCredit Card®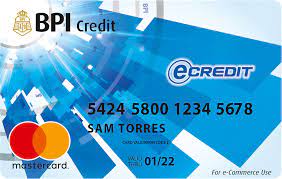 About credit card
This BPI eCredit offers enhanced shopping security for online purchases and numerous other benefits such as no annual membership fee. You can also configure your BPI alerts to send you SMS notifications for certain approved transactions when making online purchases with your BPI eCredit Card.
Features
BPI eCredit enables you to earn one reward point for every ₱35 you spend. It also supports many security measures to ensure that you securely conduct online transactions, given that most of them are susceptible to hacking. You can choose to enable biometrics, which will require your fingerprint or face ID to log and approve payments using your BPI eCredit card.
You can also enable One-Time PIN (OTP) verification, which generates an automatically generated number or alphanumeric string of characters for each transaction and sends it to your cell phone. To authenticate the transaction or login session, you must enter the OTP, which expires after a certain period. You may also use the BPI mobile app to link your account to a trustworthy mobile phone. Additionally, you may enable BPI's ATM Withdrawal Alerts to get email or SMS notifications anytime a certain amount is withdrawn from your account.
Pros and cons of BPI eCredit
Online shoppers who like to make purchases conveniently can use the BPI eCredit to execute safe transactions. However, before turning in your application form, you should keep in mind that the card has not only benefits but certain limitations as well.
Pros
You will not be charged an annual fee with BPI eCredit.

You have access to security safeguards that ensure the safety of your online transactions.
Cons
To activate BPI notifications, you must have a functional and legitimate mobile number registered on a recognized cellular carrier network.
How to apply a credit card?
You must provide evidence of identification and income to apply for a BPI Edge Mastercard at any BPI branch, online, or through the BPI Mobile App. A passport, company ID, or driver's license are acceptable identity documents. Use your most current pay stub or bank statements with the most recent transactions for proof of income. Next, visit a banking representative to obtain the necessary forms for a credit card application. Then, fill the form with accurate information and attach your documents before handing them over to the agent. You will then get a notification on the authorization status of your card.
This site is protected by reCAPTCHA and the GooglePrivacy Policy and Terms of Service apply.

Dear guest, please leave your feedback
Leave a review and get 20 FinCoins to your account!