BPI Debit Mastercard®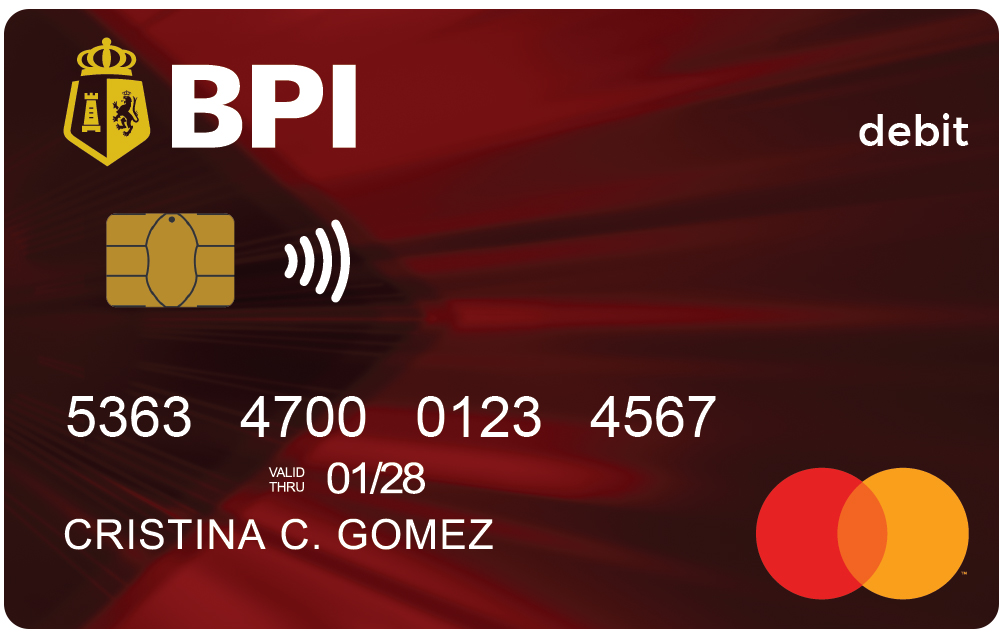 The BPI Debit Mastercard allows you to make purchases and payments offline, online, over the phone, and in person. You can benefit from convenience while keeping your transactions secure. Additionally, you can use contactless transactions, link accounts, and modify your card's settings to set the withdrawal and purchase limits you desire.
Features
You must first activate your BPI Debit Mastercard before you can modify your PIN within three days of receiving it. If not, you can ask to have any nearby branch reactivate your temporary PIN, after which you need to change it. If you want to keep using the BPI debit card, you must have it renewed at any nearby branch before the valid date expires.
When your BPI Debit Mastercard is active, you can enjoy making transactions or purchases via the BPI online and mobile app.
EMV-chip-enabled. Europay, MasterCard, and Visa (EMV) are the three most widely used credit card brands. Every transaction is secure thanks to chip card technology.
6-digit PIN. The Mastercard is PIN-enabled and has an EMV chip. The PIN function makes the card more secure by requiring a secret six-digit PIN code to validate the EMV payment known only to you.
One-time PIN. Every time you make an online purchase, change your card, increase or decrease your purchase restrictions, or alter the PIN, a one-time unique code is sent to your mobile device.
BPI card control. You can be in control and customize your card features in real-time, like the daily maximum you can spend and the maximum amount you can withdraw from ATMs using card control. Additionally, you can enable or disable your card's ability to make purchases online, at ATMs, and in point of sale (POS) terminals or companies abroad. Besides that, you can block your Mastercard temporarily or permanently if you lose it for safety and security.
Account linking. You can use this feature to link additional accounts to the one BPI Debit Mastercard. Once connected, you can use a single Mastercard to access many accounts.
E-commerce. You can pay online and withdraw cash from any ATM connected to BancNet or Mastercard Worldwide.
Contactless transactions. You can tap your card to pay for your purchases at partner merchants or other services not exceeding ₱5,000 without inputting any PIN or sign as long as there is a contactless symbol at checkout. You can make a payment in a matter of seconds by just tapping or waving your card over a contactless sale POS terminal. If you cannot access all of these features with your BPI debit Mastercard, contact their 24-hour BPI Contact Center at +632 889-10000.
Pros and cons of BPI debit card
Debit Mastercard is one of the BPI debit cards regulated by the Bangko Sentral ng Pilipinas (BSP). The debit Mastercard lets you set your day-to-day spending limit and perform contactless transactions. Additionally, when you use your BPI debit card at any partner merchants, you will receive exclusive offers and discounts. However, there are some drawbacks to this card that you should be aware of before acquiring it.
Pros
You can use any ATM that accept Mastercard to withdraw cash and make offline and online purchases.
You can use your BPI Debit Mastercard to make purchases worldwide because it comes pre-activated with international access.
Cons
Your card's daily purchase limit, including any online purchases, is ₱20,000.
You will be charged transaction fees when you use your debit card at point-of-sale terminals and ATMs abroad, as well as withdrawals from non-BPI ATMs in the Philippines.
How to apply
To apply for a BPI Debit Mastercard, visit any BPI branch. When you approach one of the banking personnel and explain that you require a Mastercard, you will be handed a form to complete. Before you sign the documents and give them to the BPI banking agent, ensure you have correctly entered all the necessary information and understand all the terms and conditions. Once your debit card is ready, BPI customer care will notify you.
Experience convenience like no other while keeping your transactions safe and secure anywhere you go.
EMV Chip-Enabled
6-Digit PIN
Account Linking
BPI Card Control
Shop and Pay
International Debit Acceptance
Tap to Pay
Get Cash
E-Commerce
This site is protected by reCAPTCHA and the GooglePrivacy Policy and Terms of Service apply.

Dear guest, please leave your feedback
Leave a review and get 20 FinCoins to your account!