BPI Debit EMV Cirrus Red®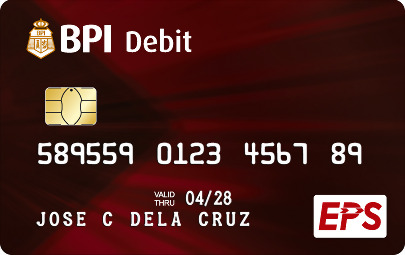 BPI Debit EMV Cirrus Red®
You can enjoy seamless transactions as you purchase at partner merchants using the BPI Debit EMV Cirrus Red. The debit card ensures that all transactions are secure by using the EMV chip. You can also access ATMs all over the world associated with Cirrus and Bancnet.
Features
The BPI Debit EMV Cirrus Red card has several features that make it an ideal and secure alternative to traditional plastic cards. It is widely accepted for payments in many countries worldwide, allowing customers to enjoy convenient pay-at-home services and merchant discounts.
The EMV Chip technology ensures that you make secure transactions worldwide, but they must be in-store as this BPI Cirrus debit card does not allow online shopping. For an international withdrawal, you are charged $3.50 or 1.75%, whichever is higher. You are also charged $1 for an international balance inquiry.
You can use the BPI debit card to transfer money online, over the phone, or through an ATM. You can also send money using your card by entering the desired transfer amount, choosing the bank and location, and following the on-screen instructions to complete the process.
You can also use the card to pay your rent and utility bills rather than take cash out of your account and depositing it into the appropriate merchant accounts.
Pros and cons
The BPI Debit EMV Cirrus Red has various advantages that make purchasing easier and affordable. Nevertheless, there are a few disadvantages to keep in mind before applying. >
Pros
You will not be charged for any local in-store transactions and BPI ATMs.
You can make in-person payments at EPS and BancNet Point-of-Sale (POS) terminals, conduct transactions at any BPI or BancNet ATM in the Philippines, and withdraw money from any ATM affiliated with Cirrus anywhere in the world.
Cons
You cannot use the card for online payments, just in-store payments.
You will be charged for any international transactions via the ATMs
How to apply?
Applications for BPI debit cards cannot be submitted online or through a mobile app. You must visit any BPI branch and request an application for a debit card from a banking representative. After that, be sure to write down all the key details. Additionally, list the checking account in the bank account section to which you want to link the BPI Debit EMV Cirrus Red. When your card is ready, you will be notified via email at the address you provided.
Enjoy cashless shopping in over 45,000 merchants nationwide through the Express Payment System (EPS) and BancNet.
EMV Chip-Enabled
Shop and Pay
Get Cash
This site is protected by reCAPTCHA and the GooglePrivacy Policy and Terms of Service apply.

Dear guest, please leave your feedback
Leave a review and get 20 FinCoins to your account!