BPI Blue Mastercard®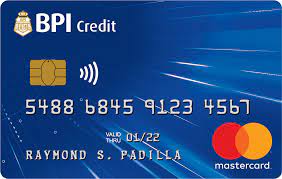 About credit card
The BPI Blue Mastercard is ideal for savvy shoppers who want to eliminate cash from their purchases and earn rewards. You get benefits at Ayala malls, and your first year is free of annual fees. You also receive reward points when you spend money and pay for eligible purchases using your Mastercard.
Features
The BPI Blue Mastercard is a sensible card that enables you to access installment options from your favorite stores while earning exciting rewards points. You earn one reward point for every ₱35 spent. Your 12,000 Real Thrills Regular (RTR) premium points can also be exchanged for ₱1,000 in shopping credits. You can also convert 18,000 RTR points for a ₱1,000 SM gift pass, 9,000 RTR points for ₱500 J.CO donuts and coffee gift certificates, and 9600 RTR premium points for ₱1,000 Power Mac gift vouchers. You also enjoy year-round perks and discounts from eligible retail shops, restaurants, online stores, appliance, and gadget shops.
Additionally, you have access to a cash advance amount of up to 30% of your credit limit, which you may pay back over a maximum of 36 months in installments. You can also enjoy the following perks:
Using your BPI Credit Card at partner retailers, you can extend your payment terms up to 36 months while taking advantage of the 0% Special Installment Plan (SIP).

Transfer your outstanding amounts from previous credit cards to your BPI Credit Card and pay them off over 36 months at a low monthly add-on rate of only 0.99%.

Buy now, pay off your installments over the next three months with your BPI Credit Card, and get up to 36 months of Real 0% SIP at partner merchants with the bonus madness limit.
Furthermore, you can book your flights using your card and get free travel insurance coverage for up to ₱2 million whenever you travel at no cost. You can also avoid a higher foreign currency conversion as the BPI card charges 1.85%. Choose to have your transaction processed or billed in the foreign currency in place of the Philippine peso to take advantage of the low foreign exchange rate. By doing this, the local bank in the nation you visit will not charge you an unfavorable rate.
Pros and cons of BPI Blue Mastercard
Although BPI credit cards like BPI Blue Card and BPI Gold Mastercard have a lot of advantages, like cashback on grocery store spending and other eligible purchases, they also have some drawbacks. Therefore, be sure to take the cons into account as well before deciding to apply for this cashback card.
Pros
You can use the card to travel worldwide as per your credit limit as you enjoy real thrills rewards points because most countries recognize it.

You will not pay an annual membership fee if the BPI Blue Mastercard is your first supplementary card.
Cons
You will be charged an annual fee of ₱1,550 if the BPI Blue Mastercard is your primary card and ₱775 if it is your second supplementary credit card.

You will pay a ₱200 fee and a 2% finance charge for each cash advance transaction.

You can only use 30% of your total credit limit for a cash advance, and withdraw cash depending on how much of it is still available.

You will be required to pay ₱850 penalty fee or the equivalent in the amount of the unpaid minimum amount due.
How to apply a credit card?
You can apply for a credit card through BPI Express Online BPI Mobile App. To apply for the BPI Blue Mastercard online, go to Google Play, the App Store, or AppGallery. Then search for and install the BPI Mobile App. After clicking Register Now, select BPI Blue Mastercard. Enter your customer number or credit card number if you are not a principal cardholder, choose your date of birth and create your username, as well as password. Also, include your email address, read and understand the terms and conditions, and click Submit. Then enter your One-Time-PIN, and click Submit. Wait for confirmation once your credit card application has been verified and approved.
This site is protected by reCAPTCHA and the GooglePrivacy Policy and Terms of Service apply.

Dear guest, please leave your feedback
Leave a review and get 20 FinCoins to your account!