BPI Amore Platinum Cashback Card®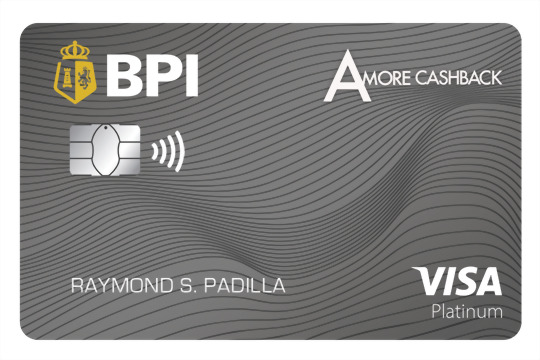 BPI Amore Platinum Cashback Card®
About credit card
With the BPI Amore Platinum Cashback, intelligent shoppers may take advantage of cashback every time they purchase or eat out. The BPI credit card offers cashback up to ₱15,000 per year.
Features
The BPI Amore Platinum credit card provides various benefits that make it the ideal shopping companion. Everywhere you spend ₱1,000, you receive cashback. You receive 4% cashback when you dine out or order takeout, 1% cashback when you shop, and 0.3% cashback on all other national and international retail purchases.
Then, at Ayala Malls, you get benefits and privileges, including unlimited access to the mall's dedicated customer and family lounges. Additionally, you receive a 5% discount on movie ticket purchases at theaters, and new members are welcomed with complimentary parking passes at some Ayala Malls.
Furthermore, you can use a cash advance to take up to 100% of your available credit and repay it for up to 36 months in installments. You can also convert your foreign currency at a low rate of 1.85%. Additionally, you have access to several installment choices with 0% installment and an increased installment cap thanks to BPI Bonus Madness Limit. Plus, you can spread out your direct purchases into installments.
Pros and cons of BPI Amore Platinum Cashback Card
Before selecting the BPI Amore Platinum Cashback Card, you should be aware of its advantages and disadvantages.
Pros
You receive rewards when using your cashback card to make eligible purchases.
You can use this credit card to improve your credit score.
Cons
Your card will be subject to annual fees of ₱5,000 after the first year.
Your credit card has a 5% off coupon on movie tickets that are only good at regular cinemas as 4D, 4DX are not included, and the discount does not apply to online purchases.
How to apply a credit card?
The BPI Amore Platinum Cashback Card application can be submitted online or at any BPI branch. To apply online, follow these steps:
On the home page, click Cards
Select Apply for a Credit Card
Choose whether or not you are an existing customer.
Select BPI Amore Platinum Cashback Card.
Tap Start Application and fill out the required information.
If you want to apply for the Amore Platinum card at any BPI branch, let a banking representative know you need a credit card application form. Then, fill in every necessary field with the correct information.
Discover more of what you love with a BPI Amore Platinum Cashback Card. Earn cashback anywhere you shop, enjoy exclusive perks at Ayala Malls.
Features
4% on restaurants, 1% on supermarkets, and other shopping stores; 0.3% on everything else
Exclusive privileges at Ayala Malls: Free lounge access, 5% cinema discount, free parking tickets
Up to 36 months installment terms
Low forex conversion rate of 1.85%
Access to instant cash
This site is protected by reCAPTCHA and the GooglePrivacy Policy and Terms of Service apply.

Dear guest, please leave your feedback
Leave a review and get 20 FinCoins to your account!