BPI mobile application is a digital platform created by the Bank of the Philippine Islands for its customers to ease their access to banking activities. Available on Android and iOS devices, it provides access to all individuals or businesses with a BPI account. The app makes it possible to pay government fees, send money, book branch appointments, and pay bills on the go.
Features of the BPI Mobile APP
The BPI mobile application presents a lot of features to its users. With the app, you can:
Transfer funds. You can transfer up to an aggregated amount of ₱250,000 using the BPI mobile app. A fee of ₱25.00 is charged for every Instapay transaction when sent to other banks and e-money issuers. There are other options on the BPI application which allow users to transfer funds to:
Self account
Other BPI accounts
QR codes
Other local banks
Dollar account
Pay fees. Users can make payments for their government fees via the BPI Mobile app with convenience by using the BPI eGov, which is a payment portal you access via your BPI mobile app.
Pay bills. The company offers convenience with security. By enrolling up to 99 billers in your account, the application will provide a list of billers you could pick, and payments are debited from your account in real time
Set appointments. Save time by fixing appointments in advance on BPI Online.
Access mobile key. This feature helps you verify and review your online banking transactions through your chosen biometrics or a nominated PIN code.
Personalize accounts. Account personalization and settings are accessible through this mobile application. You can personalize your account to:
Set your debit card control limits.
View your account statements./li>
Turn on your notifications.
Enroll in third-party accounts.
Access Beep QR. Beep QR is a QR code-based ticket that you can scan before riding the bus or ferry instead of using a Beep card or a regular ticket. It can be generated using your BPI online password on BGC bus routes and Topline Express Ferry routes in Cebu.
Pros and cons of the BPI mobile app
Online banking is even more necessary these days following the pandemic, so it is essential to know what benefits we can gain from this service and the risks that come with it.
Pros
Provides notifications through email and SMS. You receive an email or SMS when a transfer or withdrawal is made from your BPI online account.
Provides cash flow monitoring. Whether you're a traveler or a homebody, monitoring your cash transaction history will give you comfort in knowing that your money is intact and well-accounted for. The app's personalization setting will enable you to review and keep track of your money.
Provides features that save time. With the application, there's easy access to get around transactions via your BPI online account within a short amount of time without waiting in a queue.
Cons
Provides risky services. While users transfer money, there are times when they don't crosscheck the account details and commit errors. This can lead to a fund transfer into another account, which is very risky.
Faces multiple downtimes. Users have complained about numerous downtimes that cause delays in accomplishing online banking tasks and accessing their prepaid accounts.
BPI on Google Play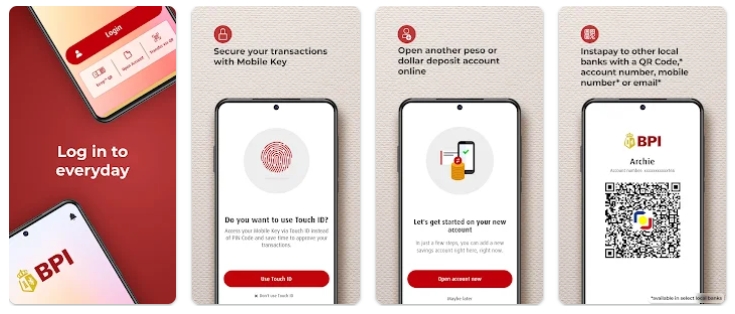 BPI on App Store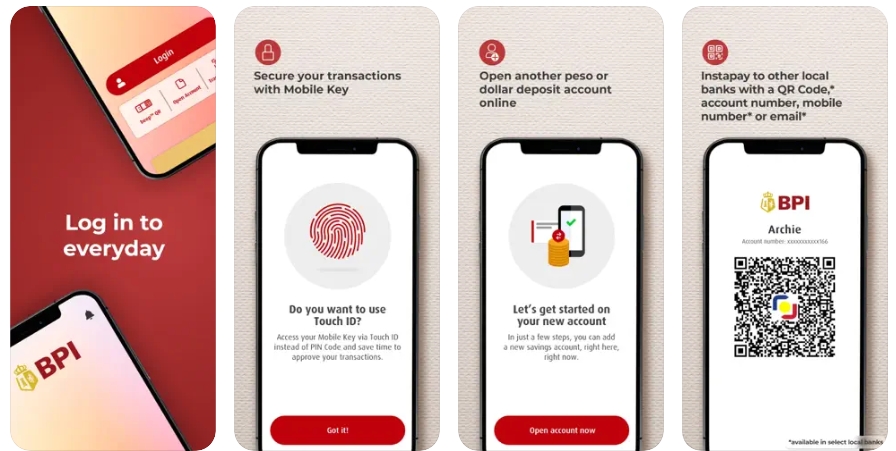 How to register on the BPI mobile app
If you are wondering what product you need to enroll in the BPI app, a deposit, credit card, or loan account is all you need. To register on the BPI mobile app:
Visit BPI online banking through their website or download the BPI Mobile app from the Google Play or App Store.
Once the app is downloaded, open it.
Click Register now.
Select a product type that fits you, whether a deposit, credit card, or loan account.
Enter your account number, customer number, or loan account number.
Select your date of birth.
Create your BPI online username and password.
Type your email address.
An OTP will be sent to your mobile number. Enter it and click Submit. After that, you will see a confirmation screen which means your registration is complete.