JCB Lucky Cat®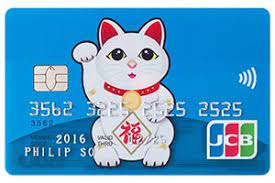 The BDO JCB Lucky Cat credit card can be used for shopping, dining, travelling, and relaxing.
Features of BDO JCB Lucky Cat credit card
Below are the features of the BDO JCB Lucky Cat credit card:
It comes with a free membership fee. The first year of membership is free for principal and supplementary cards.

It provides the peso reward program. Earn two peso points for every ₱1,000 eligible BDO credit card expenditure, where one peso point equals ₱1.00. You may transfer your peso points to your BDO rewards card and use them to buy at any SM retail outlet. Convert your peso points to cash credit and utilize the proceeds to pay off your credit card debt or to go shopping.

It provides a delightful shopping experience. When purchasing large-ticket products such as appliances, electronics, and accessories, you can pay in convenient monthly payments. Enjoy 0% interest or a low monthly add-on rate at participating businesses or websites.

It provides free access to JCB Plaza lounges. JCB Plaza lounges are located in tourist shopping districts in eight major cities worldwide. Among the lounge services are:

Travel and tourism information.

Hotel, restaurant, tour, and ticket reservations.

Other amenities include free Wi-Fi, complimentary refreshments, and temporary luggage storage.
Pros and cons of BDO JCB Lucky Cat credit card
The following are some of the benefits and drawbacks of the BDO JCB Lucky Cat credit card:
Pros
There is a buy now pay later option for some selected purchases if you use this card, which also comes with a 0% interest rate.

Transfer your other credit card balances to your BDO JCB Credit Card and pay them off in monthly installments with low monthly add-on rates.

The card can be applied for online.

The card has a meagre monthly interest rate of 2%.

It provides the cardholder with several payment choices.
Cons
It has several monthly charges and fee payments.

If cardholders are not vigilant, they may be exposed to online fraud.

There are various criteria and conditions that must be met before being eligible for the majority of their discounts.
How to apply for the BDO JCB Lucky Cat credit card
Follow the steps below to apply for the BDO JCB Lucky Cat credit card:
Visit the BDO official website and click on Personal.

Click on Cards, Credit cards, Right card for You, then Choose the brand for my credit cards.

Click on JCB, look for JCB lucky cat, and click on Apply now under it.

Enter your first, middle, and last name, and then select your age range.

Enter your residence phone number, your area code, and your mobile number, and then select your mobile plan

Enter your email address.

Choose if you are an existing principal credit card holder.

Upload your document attachment and tick on the Terms of acceptance box if you accept the terms.

Enter the verification code sent to your mobile phone and click Submit.
This site is protected by reCAPTCHA and the GooglePrivacy Policy and Terms of Service apply.

Dear guest, please leave your feedback
Leave a review and get 20 FinCoins to your account!