BDO Visa Platinum®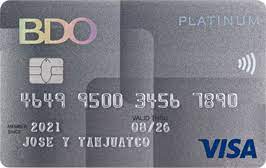 You earn points for purchases made at restaurants, online, and in stores when you use your BDO Visa Platinum. You can also earn additional discounts and freebies from Visa's international partners, which include high-end resorts, restaurants, golf clubs, and travel agencies.
Features
When using the BDO Visa Platinum card to make purchases, you can earn one peso point for every ₱1000 or $20 spent. You can transfer your peso points to your BDO rewards card to use them toward purchases or travel expenses. Not only will you save money on your travel and lodging, but you will also get a free priority pass membership. The BDO Visa Platinum does not come with automatic activation of the priority pass service. A Priority Pass application must be completed, and you must allow at least 15 banking days for the application to be processed and verified. Therefore, to earn points, you should apply for the Priority Pass at least three weeks before your planned trip.
A complimentary Visa Virtual card is also provided to make online shopping more convenient. The virtual card helps safeguard your regular card from malicious parties if any data leaks occur because it has a different number from your BDO Visa platinum card. By contacting BDO customer service, you can set your credit card limit to reflect your needs for online shopping.
Pros and cons of BDO Visa Platinum
The BDO credit card has the following benefits and drawbacks.
Pros
You are covered for up to ₱20 million in travel accident and inconvenience insurance.

You earn peso rewards at the same rate as the BDO Visa Platinum card.
Cons
You will be charged a 2% finance charge and ₱4500 in annual fees.

You will not be protected from anything that happens more than 90 days before enrolling in insurance.
How to Apply for a BDO Visa Platinum
You can apply for the BDO Visa Platinum online by logging into your account when you select BDO Online Banking from the Online Banking Login menu.
Select Personal, Cards, and then Credit Cards.
Choose BDO Visa Platinum from the Brand for My New Card menu.
Click Apply for a Credit Card, and select APPLY NOW.
Fill out the application form and click the Submit button if you have no previous BDO record. If you have a history, all you need to provide are some additional details such as income or bank statements if you are self-employed.
Finally, as directed, submit the necessary documents.
This site is protected by reCAPTCHA and the GooglePrivacy Policy and Terms of Service apply.

Dear guest, please leave your feedback
Leave a review and get 20 FinCoins to your account!