BDO Visa Classic®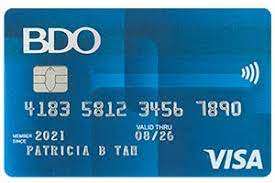 The BDO Classic credit card lets you enjoy discounts, freebies, perks, and privileges when you use your BDO credit card at eligible partners. You can use installment programs like balance transfer, Buy Now, Pay Later, cash-it-easy, and purchase convert to improve your finances by making payments when you can. These payment plans will help cater for big purchases as you earn reward points.
Features
Credit cards by BDO Unibank Inc. are regulated by the Bangko Sentral ng Pilipinas; therefore, you can make your online shopping worry-free as you earn rewards and peso points. The BDO Classic Visa also earns points for every ₱50 spent. The reward points are awarded at 0% interest for 3 to 36 months, and security measures like biometrics are used to protect your card number when making online purchases.
One of the installment plans offered by the BDO Visa Classic is Buy Now, Pay Later. Across the nation, more than 19,000 physical and online partner retailers accept installment payments for goods and services. You can also pay medical bills and school tuition in installments over a term of up to 36 months for a minimum single-receipt purchase of ₱3,000. Additionally, you can transfer balances from other cards to your BDO credit card and pay them off in installments with a low monthly add-on rate. The Cash-It-Easy feature allows you to pay in simple installments over 36 months by converting your available credit into cash. You can also pay your bills in a convenient way with BDO's Auto-Charge. Auto-Charge enables you to set up automatic payments for multiple invoices, allowing you to have a single due date. As a result, you will never forget to pay a utility bill on time.
Remember, if you have concerns like your credit card cannot access some of the features, go to your branch of account or call the BDO customer contact center at 8631-8000, which is domestic toll-free.
Pros and cons of BDO Visa Classic
You can get discounts and freebies with the BDO Visa Classic, but the card also attracts costs like annual fees. Therefore, keep that in mind if you intend to apply for this BDO credit card.
Pros
You enjoy a free membership fee for the first year

You can enroll as many utility bills as possible, provided that your credit limit is sufficient and the merchant is not already enrolled in another company's auto-debit or auto-charge program.

Your deposits are insured by PDIC for up to ₱500,000 per depositor.
Cons
You will be charged a monthly membership fee of ₱150 after the first year.

You can only redeem peso rewards options if this is your primary BDO card.
How to apply for the BDO credit card
As one of the applicants, you must have a gross annual income of at least ₱260,000 and have a residence within where a BDO branch is located to qualify for this credit card. You must also submit a valid photo-bearing identification document issued and signed by a government official, such as a passport, driver's license, company ID, or National Bureau of Investigation (NBI) Clearance.
If you are self-employed, you must have been in business for at least two years. Self-employed individuals must also provide a photocopy of their business name registration, tax return, and W4 with a BIR stamp as proof of income. If employed, you should provide a photocopy of an original Copy of Employment and Income (COEI) indicating your status, as well as a photocopy of your most recent full-month pay stub. For foreigners, a copy of your contract or a certificate of employment letter from the embassy will suffice.
Next, submit your online application for the BDO Visa Classic as follows:
Visit the website.
Select Personal, followed by Cards, and then Credit Cards.
Choose the Brand for My New Card from the menu, select Visa BDO Visa Classic, and then choose Apply for a Credit Card.
Choose APPLY NOW.
While filling in the application form, input N/A if not applicable, then click the Submit button.
This site is protected by reCAPTCHA and the GooglePrivacy Policy and Terms of Service apply.

Dear guest, please leave your feedback
Leave a review and get 20 FinCoins to your account!