BDO Titanium Mastercard™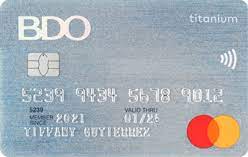 When you use the BDO Unibank, Inc. Titanium Mastercard™ to make purchases, you accrue rewards points from your preferred retail brands. Additionally, you have access to Mastercard international specials on things like dining, golf, and shopping.
Features
The EMV chip technology on the BDO Titanium Mastercard™ enhances the security of in-store transactions. You can also activate a One-Time PIN (OTP) for online purchases. Before logging into your account, you must enter the One-Time Password (OTP) sent to your registered mobile number for multi-factor authentication. Furthermore, if there are any odd transactions, such as larger-than-usual withdrawals, the Bank may attempt to notify you through phone or text message. In addition to using pesos to make payments, you can also use USD dollars using the dual currency feature. The dual currency option enables you to make local payments in Philippine pesos while having your international payments charged in US dollars.
Pros and cons
The Titanium Mastercard™ includes security safeguards to secure your personal and financial information. It may also allow you to use the dual currency billing option, but there are certain drawbacks. Before going to a branch and filling out an application form, you should consider the benefits and drawbacks of using this card.
Pros
You will receive a lifetime annual fee waiver if you have five other supplemental cards besides this platinum card.

You can protect your personal and financial information because the card has security features like OTP and an EMV chip.
Cons
You will be charged a ₱4500 annual membership fee.

You will be charged ₱200 for each Cash-It-Easy transaction and ₱250 for each balance transfer.
How to apply
You can apply for the credit card either online or in person. To apply for the BDO Titanium Mastercard™ in a branch, go to the customer service counter and ask for an application form. You will be taken to a banking agent, where you will be given a form. Fill in all relevant fields and put N/A where applicable. Then, submit the application form along with all required documents, such as evidence of identity and income. When your card is ready, you will be notified when you can pick it up. However, if you provided erroneous information on your application form or one of the documents you sent was invalid, BDO customer service will contact you too so that you can make the corrections.
This site is protected by reCAPTCHA and the GooglePrivacy Policy and Terms of Service apply.

Dear guest, please leave your feedback
Leave a review and get 20 FinCoins to your account!