BDO Standard Mastercard®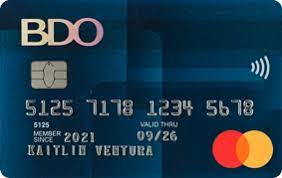 You can earn rewards using the BDO Standard Mastercard in over 20 million locations and 275 countries. Your rewards can then be used to make purchases at any SM Retail Store. You can also use your BDO credit card to make online purchases and receive exclusive discounts from participating merchants.
Features
The BDO Standard Mastercard allows you to pay in monthly installments when shopping for big-ticket items like appliances, jewelry, gadgets, and apparel at 0% interest. You can then pay in 3 to 6 months and access other installment programs like EasyPAY Cash, Convert and Balance Transfer to easily manage your finances. Balance Transfer enables you to move your other card balances to your BDO Standard Mastercard and pay it in installments with low monthly add-on rates. With Convert, you can change your credit limit into cash and pay in easy installments for up to 36 months. Also, Purchase Convert lets you convert recent single-receipt purchases of at least ₱5,000 or USD200 to installments using your BDO Credit Card. By enrolling various utility bills to your BDO Credit Card, you may pay your payments fast and efficiently while just having to remember one due date.
Pros and cons
Before you go to any branch and request a BDO Standard Mastercard application, you should weigh the advantages and disadvantages listed below.
Pros
The Mastercard does not have an annual fee for the first year.

The Mastercard allows you to buy items or pay for services in installments from in-store and online partner companies.
Cons
You will be charged a membership fee of ₱150 per month after the first year if this is your primary card and ₱75 if this is a supplemental card.

You cannot apply for a credit card online; instead, you must visit any BDO branch.
How to apply
To apply for the BDO Standard Mastercard as a primary card, you must be between the ages of 21 and 70, while for a supplementary card, you must be at least 13 years old. Next, go to a BDO branch to apply for the Mastercard. The bank employees will provide you with the application forms after you inform them that you are applying for a credit card. Complete the required fields. Afterward, submit your credit card application papers and the necessary documents, such as identification as well as proof of income. Wait for the BDO banking representatives to review your application; if there are no issues, they will inform you when to pick up your credit card.
This site is protected by reCAPTCHA and the GooglePrivacy Policy and Terms of Service apply.

Dear guest, please leave your feedback
Leave a review and get 20 FinCoins to your account!