BDO Platinum Mastercard™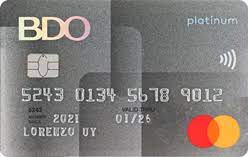 BDO Platinum Mastercard™ provides the convenience and benefits of having a credit card. With this Mastercard, you take advantage of the rewards you earn from partner merchants like cash back rewards, travel perks, and a wide variety of cuisines at select premiere dining establishments.
Features
With the credit card's peso rewards program, you can earn one peso point for every ₱1,000 spent on eligible purchases. You can utilize your points by transferring them to your BDO Rewards card at any SM Retail Store. You can also exchange your peso points for cash credit to pay off the remaining balance on your credit card or to add to your spending budget. Additionally, when you use your BDO Platinum Mastercard to make online purchases, you can access E-Commerce Purchase Protection Insurance.
You can also dine at certain restaurants and enjoy various cuisines. When you travel overseas, you do not have to worry about which currency to use. The credit card comes with a dual currency billing option, and you can pay in pesos or US dollars. However, this feature is not automatically available when you get the card. You have to enroll for the dual currency feature. Additionally, you benefit from up to ₱20 million in Travel Accident Insurance coverage.
Pros and cons of BDO Platinum Mastercard™
The BDO Platinum Mastercard™ offers reward points for every ₱1000 spent. However, there are costs associated with balance transfers. So, if you want to apply for the BDO credit card, keep it in mind.
Pros
You enjoy a free membership fee for the first year.

You can check your rewards balance in the points display summary of your monthly Statement of Account.
Cons
You will be billed a monthly membership fee of ₱4500 after the first year if you do not spend over ₱600,000 per year.

You will pay a ₱250 installment fee for each approved balance transfer transaction.

Your balance transfer application and payment to other credit cards could take up to five banking days.
How to apply
To apply online for a BDO Platinum Mastercard™, follow these instructions:
Go to the BDO website.

Select Online Banking Login.

Log in to your online account by tapping on BDO Online Banking.

Then, choose Personal, Cards, and finally Credit Cards.

Select BDO Platinum Mastercard™ from the Brand for My New Card menu, then Apply for a Credit Card.

Select APPLY NOW.

Fill out the application form, then click the Submit button.
This site is protected by reCAPTCHA and the GooglePrivacy Policy and Terms of Service apply.

Dear guest, please leave your feedback
Leave a review and get 20 FinCoins to your account!