BDO JCB Platinum®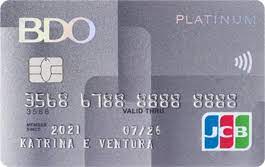 Whenever you are in or traveling to Japan, the BDO JCB Platinum will enable you to earn a point for every ₱1000 or $20 spent. You also get waived annual fees for life if you spend over ₱600,000 per year. If not, you pay ₱4,500 annual fees after the first year if this is your principal card.
Features
The BDO JCB Platinum lets you relax and enjoy lounge amenities in airports in Asia and Europe. However, you cannot access the complimentary lounge in Japan or Hawaii, but you do get access to concierge services present 24/7. The concierge assists you with vehicle rental services if you choose Hertz-Rent-a-Car at a discount of 5-20% off the usual rate. They also provide access to golf perks like letting you play on a wide range of courses that hold Japan's major golf events. However, you must make reservations and pay fees using the JCB Platinum card to enjoy the golf perks.
Additionally, you can also move any credit available to another card of your choosing via a balance transfer. Furthermore, you can charge your utility bills on a need-by-need basis using the charge-on-demand feature. You may also enroll numerous utility payments to your BDO credit card using auto charge, so you just have one due date to remember.
Pros and cons of BDO JCB Platinum
The BDO JCB Platinum card allows you to travel in elegance while earning reward points. But there are some disadvantages to using the credit card. As a result, if you do not go to locations where you may earn rewards with the JCB Platinum, you are better off with another general cashback credit card.
Pros
You get access to free travel and inconvenience insurance of up to ₱20 million.

You get access to the Buy Now, Pay Later program at 0% interest on gadgets, appliances, furniture, watches, jewelry, or apparel.
Cons
Your card will be charged a late payment fee each month if payment is not received by the due date.

Your card is deemed delinquent when the outstanding balance on the card exceeds the credit limit on or before the payment due date.
How to Apply for a BDO JCB Platinum
You can apply for the BDO JCB Platinum by visiting their website.
Click Personal, Cards, and then Credit Cards.
Select Apply for a Credit Card and then Select a Brand for My New Card.
Choose JCB, then JCB Platinum, and finally APPLY NOW.
Fill out the application and click the Submit button.
This site is protected by reCAPTCHA and the GooglePrivacy Policy and Terms of Service apply.

Dear guest, please leave your feedback
Leave a review and get 20 FinCoins to your account!