BDO Gold UnionPay®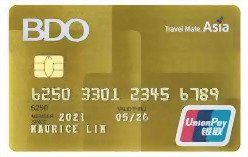 BDO Gold UnionPay is a premium credit card commonly used in the Philippines. With BDO Gold UnionPay, cardholders can easily make online transactions and purchases when travelling around the Filipino metropolis, and its suburbs.
Features of the BDO Gold UnionPay
BDO Gold UnionPay has some distinct capabilities that set it apart from other credit cards. Its key features are:
Dual currency billing. This credit card provides its users with two currency options. Filipinos can comfortably make purchases from their localities or abroad.

Free travel insurance. Cardholders can travel to any part of the world fully insured from contingencies and other inconveniences that may occur.

Free membership annual fee. The first supplementary card issued to an individual is free for a lifetime. Likewise, the succeeding four additional card users and principal card holders are free for the first three years.
Pros and Cons of the BDO Gold UnionPay
Knowing the benefits and downsides of using BDO Gold UnionPay is crucial to make the right choice when applying for a card.
Pros
Cardholders earn two peso points every time they spend up to ₱1,000 on their BDO Gold credit cards.

Cardholders who make online and overseas purchases during the Chinese New Year week get rewarded. They also get exclusive offers and rebates in partner airports, eateries, and hotels worldwide.
Cons
Cardholders are required to earn steady and high income yearly before they're qualified to own BDO Gold credit cards.

Cardholders' subsequent annual membership fee is quite expensive and may not be affordable for individuals who are not affluent.
How to Apply for BDO Gold UnionPay
Before applying for the BDO Gold credit card, you must ensure that you have met all the eligibility criteria. To apply for the credit card online through the following steps:
Visit the BDO official website.

Once the site opens, scroll to the personal menu on the left side of your device's screen and click on Cards.

Under the credit card jumplist, click on the Right card for you.

Select Brand for my new card on the drop-down menu.

Click on Browse by brand and press the UnionPay taskbar.

Under the Gold UnionPay pop-up, click on Apply now to start your application online.

Input your personal information in the given online form.

Accordingly, upload all scanned documents needed to complete the online form.

Click on Submit once you've finished the process.

A BDO representative will call you for verification.
This site is protected by reCAPTCHA and the GooglePrivacy Policy and Terms of Service apply.

Dear guest, please leave your feedback
Leave a review and get 20 FinCoins to your account!