BDO Gold Mastercard®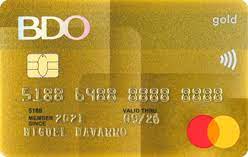 The BDO Gold Mastercard is one of the best credit cards owned by BDO Unibank Inc., available for use in your everyday essentials, in-store, and online. BDO Unibank is regulated by the Bangko Sentral ng Pilipinas to provide credit card services and users can apply for this card from the BDO branch nearest to their location.
Features of BDO Gold Mastercard
Some of the features of the BDO Gold Master card are:
Deals on daily purchases. Earn cash rebates when you use your BDO Gold Mastercard to make purchases at petrol stations, supermarkets, drugstores, restaurants, and online. Terms and conditions apply.

Discounts on online stores and mobile apps. When you buy safely online and get savings from renowned online partners, you can bring home the newest electronics and appliances or stock up on groceries.

Deals of up to 50% on dining programs. Indulge in various cuisines at BDO Unibank Inc.'s partner hotels' best dining locations.

Credit card peso rewards program. Earn two peso points for every ₱1,000 eligible BDO credit card expenditure, where one peso point equals ₱1.00. You can transfer your peso points to your BDO rewards card and use them to buy at any SM retail outlet.

Travel accident and inconvenience insurance of up to ₱5 million. Charge your transport fee (airline tickets and other modes of public transportation) to your BDO Gold Mastercard whenever you travel to receive free coverage for you and your closest relatives.
Pros and cons of the BDO Gold Mastercard
Examine the benefits and drawbacks of the BDO Gold Mastercard before you visit any BDO branch to applying for one.
Pros
The card has the Buy Now Pay Later feature with a 0% interest rate.

It has a monthly interest rate of 2%, which is below average.

It is accepted in over 20 million locations globally and over 275 countries and territories.

It comes with 24/7 toll-free customer support from BDO Unibank Inc.
Cons
There are membership fees that cardholders must pay every month.

There are various limits and requirements that users must follow to qualify for discounts and promotions.
How to apply for a BDO Gold Mastercard
To apply for a BDO Gold Mastercard, follow the procedures below:
Visit the BDO official website and click on Personal.

Click on Cards, Credit cards, Right card for You, then Choose the brand for my new card.

Click on Mastercard, look for Gold Mastercard, and click on Apply now under it.

Enter your first, middle, and last name, and then select your age range.

Enter your residence mobile phone number, your area code, and your mobile number, and then select your mobile plan

Enter your email address.

Choose if you are an existing principal credit card holder.

Upload your document attachment and tick on the Terms of acceptance box if you accept the terms.

Enter the verification code and click on Submit.
Application eligibility
Applicants must:
Be Filipinos or permanent residents who are 21 years old or older but not more than 70 years old.

Be salaried employees with a monthly salary of ₱120,000 or ₱420,000 for self-employed individuals/professionals.

Have worked for their present company for more than two years.

Have a landline phone number.

Have a residence or office address where a BDO branch is located.
Application requirements
BDO will need you to provide identity as well as evidence of income. You must have all the following valid documents:
Proof of identification for Filipinos

Philippine Government passport

Driver's license

TIN card

Proof of identification for foreigners

Valid work permit and visa

ACR or ICR or ACR-1

Valid passport

Proof of income for employed applicants

Original certificate of employment

Latest payslip

Proof of income for self-employed applicants

Photocopy of the latest ITR

Audited financial statements

SEC registration of business name
For concerns, please, visit any BDO branch nearest you or contact number 632 8708.
This site is protected by reCAPTCHA and the GooglePrivacy Policy and Terms of Service apply.

Dear guest, please leave your feedback
Leave a review and get 20 FinCoins to your account!