BDO Cash Card®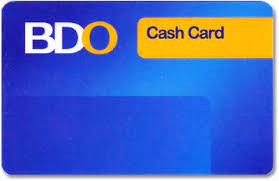 BDO Unibank Inc owns the cash card that allows you to travel, shop online, send allowances, and make payments without worrying about running out of cash. The card also prevents overspending, overdrafts on your credit, hidden charges, and balance maintenance.
Features
You can do online shopping, allowance sending, local and international ATM cash withdrawals, and purchases at POS terminals. To use the card, you only need to swipe the card and enter your pin to shop at over 20,000 merchants worldwide or a million accredited Mastercard merchants worldwide. The chip embedded in this BDO cash card allows for a secure transaction, which makes it a valuable tool for online shopping. The card also helps protect your credit card information from hackers. The EMV chip is not just for security purposes — it also enables you to save money by reducing fraud and theft. The chip also increases convenience at checkout with fewer steps than a magnetic strip or barcode reader. You can also save time by not having to enter your PIN or sign your name at the checkout.
Furthermore, you can stay on your budget by only loading the money you anticipate spending. There is also no yearly charge for the card, but it does have an expiry date, just like an ATM card. In addition, the expiry date is displayed on the front of your card. When it expires, you need to visit any BDO branch to have it replaced. If the card is stolen or you misplaced it, immediately go to the branch nearest you or contact number 632 8708, 24x7 hotline 632 8631, or email consumer affairs bsp.gov.ph to suspend your card, then visit your issuing branch to have the card replaced.
Pros and cons
Consider the advantages and disadvantages of a prepaid card before using it as this will allow you to make an informed decision. One of the most significant advantages of a reloadable card is that you can use it anywhere. You do not need to be concerned about whether the merchant accepts a specific card as long as it is one of the many options available. A cash card is also helpful because you can load it with money and use it whenever you need it. Cash cards can also be used to make purchases where credit cards are not accepted.
Furthermore, you will not have to worry about replacing your card if you misplace it and losing all of the money on the previous one. You simply cancel it online and return your money to your account. It does, however, have some disadvantages. Therefore, keep this in mind before applying for a reloadable card.
Pros
You will not be charged any service, interest, or hidden charges when you pay with your BDO Unibank Inc. card.

You get your card for only ₱150 without opening a checking or savings account at no minimum maintaining balance.

You are allowed to have a maximum of five BDO Unibank Inc. cash cards.
Cons
You pay ₱15 for every cash reload.

You may only withdraw a maximum of ₱50,000 per day for online transactions, ₱2000 for contactless point-of-sale transactions, and ₱10,000 for BDO ATM withdrawals.

You will not earn any interest from your BDO cash card as it is not a deposit account. It is also not insured with Philippine Deposit Insurance Corporation (PDIC) but BDO UniBank is regulated by the Bangko Sentral ng Pilipinas.
How to Apply for a BDO Cash Card
To apply for the BDO Cash Card, please, visit any BDO branch nearest to you and ask for a prepaid card application form. The banking agent will provide you with one, and you must fill in all the required details. If there are alterations, please, sign next to the error. You also need to bring two valid photo IDs like a work ID and any government-issued ID such as a voter's ID, postal ID, or TIN. You can choose between a pre-embossed card with your name or a nameless one. The cards will be accessible in 3-5 banking days for Metro Manila branches and 5-7 banking days for branches outside Metro Manila. After that, you must pay a charge of ₱120 and will be issued a receipt as well as a reminder to return in 5-7 banking days to get your prepaid card.
This site is protected by reCAPTCHA and the GooglePrivacy Policy and Terms of Service apply.

Dear guest, please leave your feedback
Leave a review and get 20 FinCoins to your account!