The BDO Digital Banking app allows you to conduct transactions and access your BDO accounts when you are on the go. The app may be downloaded and set up on mobile devices such as smartphones and tablets through the Google Play Store or App Store. The application offers the ability to pay bills, transfer money, shop, and check account balances.
Features
Banco de Oro (BDO) employs strict security requirements for the new BDO Online app: the system has multi-factor authentication like device registration, One-Time PIN (OTP), 6-digit PIN, and biometrics for login and specific transactions. The system is also Verisign Certified and does not store sensitive account information like account numbers, card numbers, or passwords on your phone. You can also view the account summary for your checking or savings account, time deposit, credit cards, and loans. Additionally, you can send money to your account, any other BDO account, or another local bank and mobile wallets via InstaPay using your account number or QR code.
You can also pay bills and buy load for Smart, TNT, Sun, Globe, TM, and DITTO network providers. For this, log in to your mobile app, tap Pay, then Buy Load. Enter the mobile number you want to buy, load for, or search for in your phonebook by tapping the address book button. Tap Buy after selecting the network provider for the mobile number. Then input the Amount or choose from the various load amounts from the drop-down menu. Select the account from which the transaction will be deducted, then tap Buy. Finally, double-check your information before clicking Confirm.
Pros and cons of BDO Digital Banking app
You can send money without charge using your mobile device. You can also pay bills immediately, as well as send and request money quickly using a QR code. However, before you sign up for this BDO service, you should also be aware of the app's disadvantages.
Pros
You do not require a minimum balance to sign up and use BDO Mobile Banking.
You can access your BDO account from various devices.
Cons
When you make changes in the BDO Online like scheduled transactions, password updates, nicknames created for accounts, or enrolled billers, the changes will not be reflected on the mobile banking app.
When you make any transaction after 10:00 PM, it will be considered to have occurred the next banking day.
When you want to send money, you can only transfer up to ₱ 50,000 via InstaPay to bank accounts, mobile wallets, and other people's accounts via InstaPay.
BDO on Google Play

BDO on App Store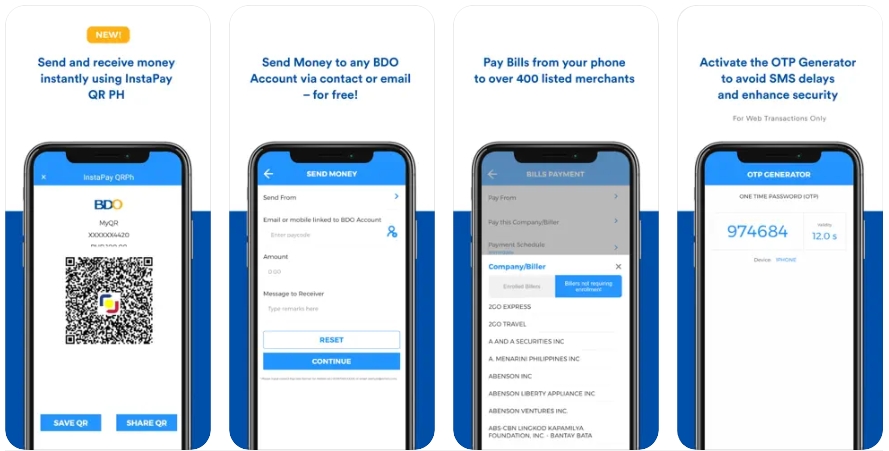 How to register in the BDO Digital Banking app?
You must be at least 13 years old to use the BDO digital banking app. For SMART and Talk 'N Text mobile phone subscribers, you must also have a savings account and a checking account. Then you must enroll, download, and activate the app before you can use it.
To enroll, visit a BDO branch or log in to Online Banking via BDO website. Select Enrollment Services, tap on Own Account, and then Enroll. Click Submit after entering the necessary data. After enrollment, your accounts will appear in two fields: transfer from and transfer to. Transfer from has fields for Savings and Current Accounts as well as BDO Cash Card, whereas transfer to only has areas for Savings and Current Accounts.
After that, download the app from the App Store or Google Play Store. Log in with your existing Username and Password, and then enable alternative login methods such as biometrics and a 6-Digit PIN to easily access your account without having to enter your password each time:
Finally, before using the BDO Online App, you must activate it as follows:
Click on the app, and select Mobile Banking from the Smart Menu.
Select Activate Bank and press OK.
Choose m-PIN and tap on OK.
When prompted for the Bank Code, select OK.
Click OK after inputting your m-PIN.
Your activation will be confirmed by text message, and a sub-menu will appear for easy access.