American Express® Cashback Credit Card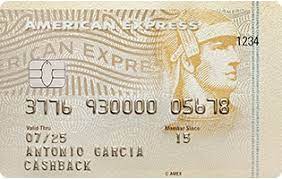 American Express® Cashback Credit Card
American Express® is a premier credit card accepted worldwide, wherever it is recognized. The cashback cards come with a minimal annual fee and are accepted in most countries.
Features of American Express® Cashback Credit Card
Some of the features of the American Express® Cashback Card are as follows:
Provides remarkable service and support. This feature allows the customers to avail customer service hotline anytime and anywhere, i.e. 24/7.

Provides lucrative cashbacks. This feature rewards cashback to the user with everyday purchases. 1% or 2% cashback is credited to your basic cardmember account from every local or overseas purchase.

Offers easy to access payment methods. The payment process is easy. You can adopt various payment methods.

Provides users with virtual access. It also has a virtual card, a primary credit card solely used for online purchases. Moreover, it contains a different card number than the original, ensuring safety and security.
Pros and cons of American Express® Cashback Credit Card
The pros and cons of the American Express® Cashback Card are as follows:
Pros
It has a unique cashback feature, which has no minimum spend or partial refund limitations.

It offers lots of discount offers.

It allows you to experience local favorites chosen from American Express dining experts.
Cons
They don't have any welcome offers compared to other competitors.

There are limited offers for the users.
How to apply for an American Express® Cashback Card
Following are the steps required to apply for an American Express® Cashback Card:
First, visit the BDO website.

Then, click on the Personal button on the left of the page, under the search section.

From the Personal dropdown list, select the Card option.

After selecting cards, choose the Credit cards option from the list.

Select the Right card for you option from the credit cards dropdown list.

After clicking that, select the option named Chose the brand for my new card.

After that, select the American express cashback card and click on the Apply online button.

After clicking that, fill out your personal information, including your name, age, contact, residence, and financial information and attach specified documents to confirm validity.

After that, accept their terms, enter the captcha for verification, and click on the Submit button.

Once they confirm your identity, you'll be able to open the American Express cashback card account.
This site is protected by reCAPTCHA and the GooglePrivacy Policy and Terms of Service apply.

Dear guest, please leave your feedback
Leave a review and get 20 FinCoins to your account!