AUB Gold MasterCard®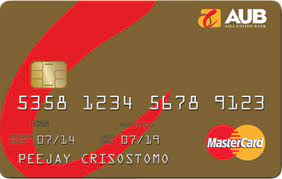 About credit card
The AUB Gold Mastercard allows you to make online purchases, pay bills, travel, etc., and enjoy flexible and affordable payments and some good deals for your expenses wherever you are.
Features
Get an eGift from AUB. Buy eGifts for your loved ones using your AUB platinum and gold credit cards.
Get online banking. Enjoy the ease of using your AUB platinum and gold credit card online.
Pay all your bills. Charge your utility payments to your AUB platinum and gold credit card immediately.
Get convenient payment channels. Pay at over 5,000 payment locations around the country.
Get no interest in new purchases. Get this on new purchases made after the statement cut-off.
Get reward points. For every ₱50 spent with your AUB credit card, you will receive one rewards point.
Pros and cons
Below are some honest perks and lows of the AUB Gold Mastercard:
Pros
The card can be used outside the Philippines.

The card comes with some loyalty bonuses.

The application is online-based.
Cons
The card application takes some time before it is approved.
How to apply a credit card?
Follow the steps below to apply:
Visit the AUB website.

Check the top right-hand side and click on APPLY FOR A CARD NOW.

Select if you have a program code or not.

Check out the eligibility and click on Apply now if you think you will be eligible.

Fill out the application form and click on Submit when done.
Below are some of the documentary and eligibility requirements for the AUB Gold Mastercard that you must fulfill in order to apply for them:
Eligibility
Applicants must be between the age of 21 and 65 years old.

They must have a gross monthly income of ₱21,000.

Employed applicants must be on regular employment status with a registered company for at least one year.

Self-employed applicants must have a government-registered business operating profitably for at least one year.

Licensed professional applicants must be practicing that licensed line for at least one year.

Applicants must have a working mobile phone, email ID and an office landline.
Documentary requirements
Any valid government ID bearing the photo or employment ID of the applicant.

Statement of account for any past postpaid mobile subscription
For employed applicants
Latest ITR (form 2316)

Latest one-month payslip

Certificate of employment/compensation
For self-employed applicants
ITR (form 1701, 1701Q)

DTI registration

Latest financial statements
This site is protected by reCAPTCHA and the GooglePrivacy Policy and Terms of Service apply.

Dear guest, please leave your feedback
Leave a review and get 20 FinCoins to your account!