About bank
Al Amanah Islamic Bank, formerly the Philippine Amanah Bank, is the only Islamic financial institution in the Philippines. The bank provides financial products and services to Muslims to help them improve their socio-economic status.
After a presidential decree in 1973, the Al-Amanah Islamic Investment Bank of the Philippines was established to provide medium and long-term credit facilities to Muslim-dominated provinces. It became a universal financial institution authorized to operate and offer Islamic banking, finance, and investment services after the Charter of Al-Amanah Islamic Investment Bank of the Philippines (AAIIBP) was established in 1990. Its mission is to become the leading Islamic financial institution offering alternative banking services, as well as to support and speed up the socio-economic growth of Islamic Filipino communities.
Pros and cons
Al Amanah Islamic Bank makes it easier for Muslim Filipinos to receive financial goods and services and improve their living as well as grow their business. However, as helpful as the bank's products and services are to Muslims, you must know the additional benefits and drawbacks to determine whether the financial institution's services are right for you.
Pros
It offers its clients a wide range of products by partnering with other financial companies.

It offers products under the Muslim faith, hence promoting innovation and development among Muslims.

It provides Muslims with financial help, including loans for development and cars.
Cons
It is only available to Muslims.

Its operations are primarily concentrated in the ARMM and Mindanao.
Products
Al Amanah Islamic Bank offers savings, current accounts, and general investment deposit products. It also provides services such as collection agreements, payroll services, and fund transfer services.
Islamic deposits
Current account under "Wadiah". According to the Wadiah (SafeCustody)concept, this checking account operates as a deposit account for consumers who also use it for transactions. Because you can withdraw the funds in this account at any moment through checks, it does not earn interest even if the bank uses your funds to invest. The Wadiah account is open to everyone over six who can read and write and is not legally impaired. To activate your account, you must make an initial deposit of ₱1,000. The minimum deposit is ₱100, and the account maintenance balance is ₱1,000. If the account balance goes below ₱1,000, a 7% penalty is imposed. Account-holders can also use the passbook to keep track of their transactions.
Savings account under "Wadiah".

Persons 18 years and above can open this account. A passbook and withdrawals evidence the transactions are made by filling a withdrawal slip accompanied by a passbook. To open the account, the bank requires two valid IDs, 2pcs of 1x1 picture, proof of billing, till number, and an initial deposit of ₱1000. The bank can reward the account owner for using their funds to invest at their discretion.

General investment account under "profit-sharing scheme".

The account is open to government and private organizations in need of funds for Shariah-compliant projects. Contributing to this account allows investors to put their money into long-term and profitable projects in the service, agricultural, and industrial sectors. Among the prerequisites are a statement of intent, a business plan with feasibility studies and financial estimates, and a ₱100,000 administrative fee.

Pilgrimage savings plan.

PSP is a deposit account under "Wadiah Yad Dhamanah," meaning safe, guaranteed custody. The account allows Muslim customers to build up their savings to finance future Muslim pilgrimages. Depending on profitability, the bank can offer the account holder a token at its discretion. The board must approve any cash gift to a customer of directors before it is credited to the customer's account.
Conventional deposits
Current account. The account helps account holders keep their funds secure and access them whenever they need funds. The current account does not earn interest but allows customers to access funds fast through personalized checkbooks. To open an account, you need an ID with a minimum deposit of ₱1000, while the maintenance balance is ₱1000.
Savings account.

The conventional savings account represents deposits made by customers as reflected on the passbook. To open an account, you need two IDs, two passports, and a ₱1000 minimum deposit.

Time/special savings.

The bank also offers time/special savings to its customers. There is no information on this product on their site, so you may contact the support to learn more about the product.
Services
The Al Amanah Islamic Investment Bank offers the following services to clients.
Murabahah. Murabaha financing involves the purchase of goods by the bank after an order from the client. The bank then sells the goods to the client at an agreed mark-up. This concept is called the cost-plus mark-up concept. The financing is for working capital or fixed assets depending on the client's needs. Murabahah helps customers acquire assets they can not afford at the instant.
Al Bai Bithaman Ajil.

Al Bai Bithaman Ajil h(BBA) involves the bank acquiring an asset on behalf of a client under the concept of deferred payment sale. The bank purchases the asset and sells it to the client at a small profit margin on the actual cost. The customer can settle the asset's price in installments as agreed by the two parties. This service applies to residential and commercial buildings or additional working capital.

Al Ijarah Muntahia Bittamleek. Al-Ijarah Muntahia Bittamleek means leasing ending with ownership. An asset is leased to the client by the bank so that when the lease period ends, the client becomes the asset owner. Account-holders can use this acquisition method to purchase commercial, professional, and business equipment for industrial and real estate construction needs.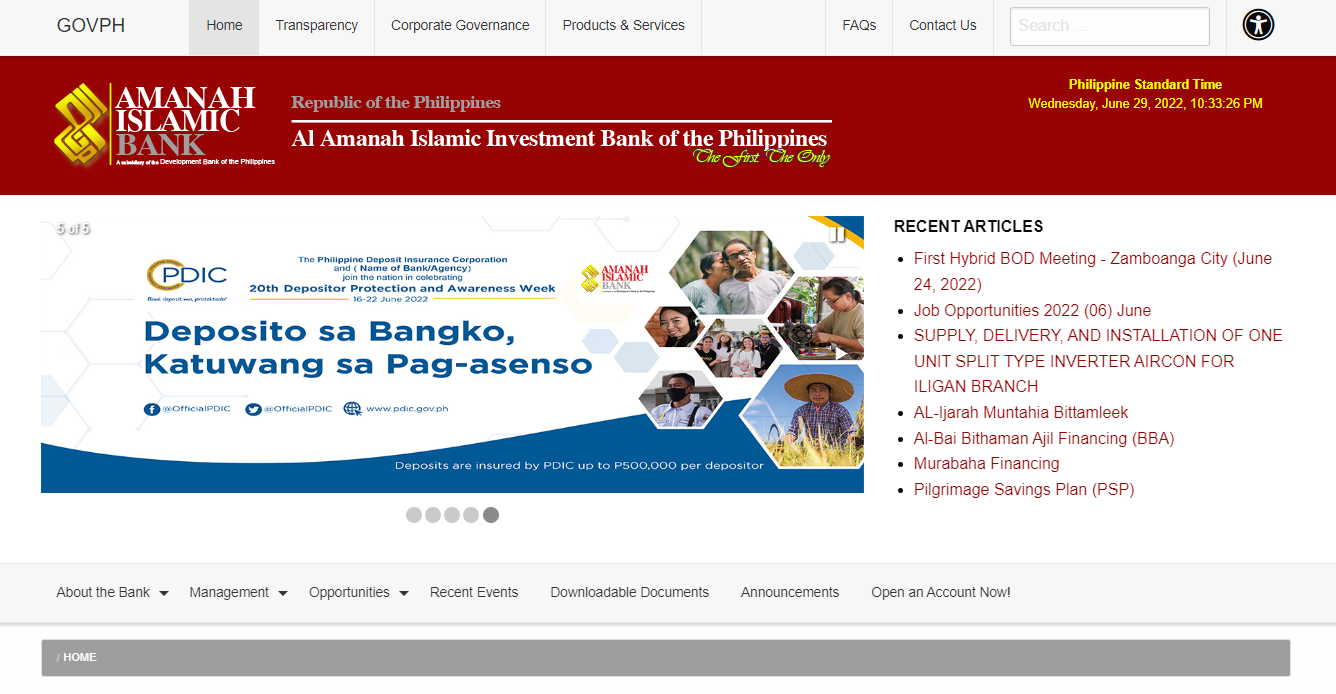 The bank offers clients other services, including collection agreements, payroll services, and bank transfers.