Features
Tangerine Mobile Banking application provides a wide range of banking services giving secure and easy access to your accounts, bills, payments, mortgages, and account balances anytime anywhere you need it.
Fast and convenient digital signup without leaving your home or speaking to a live agent;

Helpful tools to manage your money — Goals and Left to Spend which were designed to make savings, track your spending, and monitor the budget;

Helpful pointers and insights that give you helpful, relevant, and timely information about your banking;

Deposit cheques: simply snap a photo of your cheque using your camera, enter a few details and the cheque is deposited into your account;

Mobile wallet addition: add Tangerine Client Card or credit card to your Apple Pay, Google Pay, and Samsung Pay mobile wallets and use it where contactless payments are accepted;

Biometric identification: use the fingerprint scanner on your Android phone or use Apple's built-in face or fingerprint recognition technology (Touch ID or Face ID) to log in securely;

ABM Locator to locate nearby ABMs;

Transfer funds and pay bills now, later, or schedule ongoing transfers and repayments;

Orange Alerts send you emails or notifications to your device to oversee your money moving;

Refer a friend and family to the bank with Tangerine, and you could both qualify for a cash bonus.
How to download?
Tangerine Bank mobile banking application is available for iPhone, iPad, Mac, or iPod touch through App Store or for Android through Google Play.
The app requires Android 7.0 and up and iOS 12.0 or later, macOS 11.0 or later, and a Mac with an Apple M1 chip or later.
Tangerine at Google Play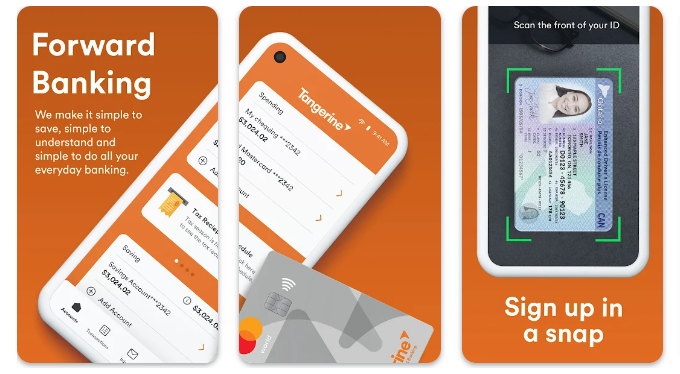 Tangerine at App Store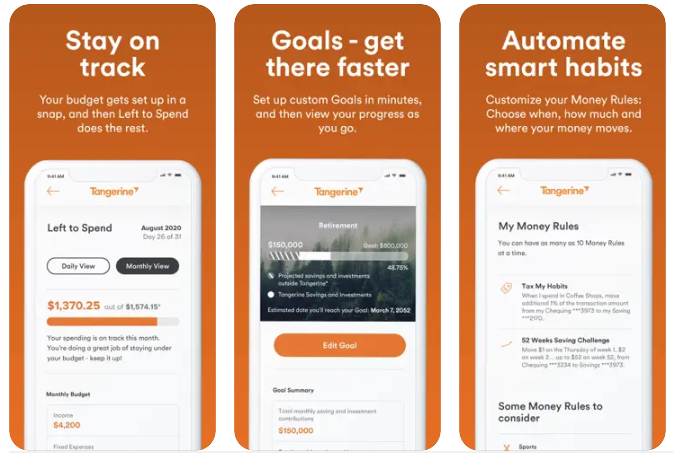 How to use?
Download and install the app on your smartphone or tablet, and sign up as a Tangerine client 100% digitally — just choose «Sign up digitally». Then:
Scan a valid Canadian driver's license;

Take a selfie;

Enter some information;

Provide your digital signature.
All images are used to confirm your identity.