To help clients bank the way they want and when they want, Scotiabank has developed a mobile app for both iOS and Android.
Features
The Scotiabank mobile app has rich functionality. Here are the key features of the app:
Check your account balance and transactions history
Pay bills and set up recurring bill payments
Transfer funds between your accounts
Deposit a cheque by taking a picture of it
Make mortgage payments
Apply for a mortgage renewal
Make loan payments
Send and receive Interac e-Transfers
Apply for other Scotiabank products and services
See your TransUnion® credit score
The iOS version of the Scotiabank mobile app is available for both iPhones and iPads. Its rating in the AppStore is 4.7. It is number 5 in Finance right now.
The Android version is available for phones and tablets made by Samsung, Google, LG, Sony, and other manufacturers of Android-powered devices. Its rating in Google Play is 3.5. More than one million people downloaded it from this platform.
How to download?
The Scotiabank mobile app is available on the App Store and Google Play. Enter any of these platforms and search for the Scotiabank mobile app and then click on "Download".
Scotiabank at Google Play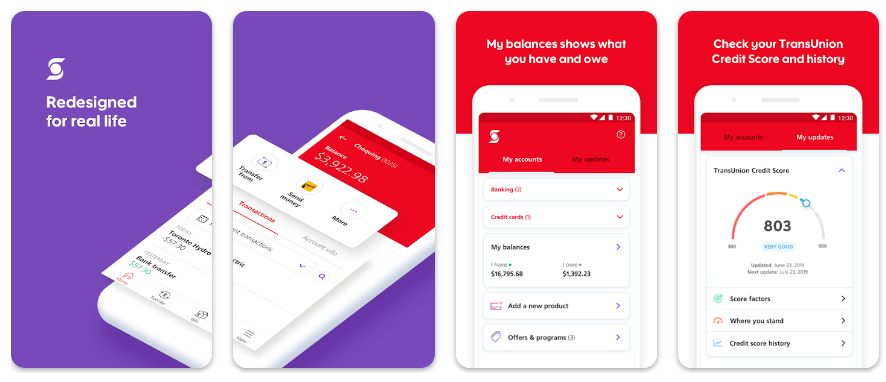 Scotiabank at App Store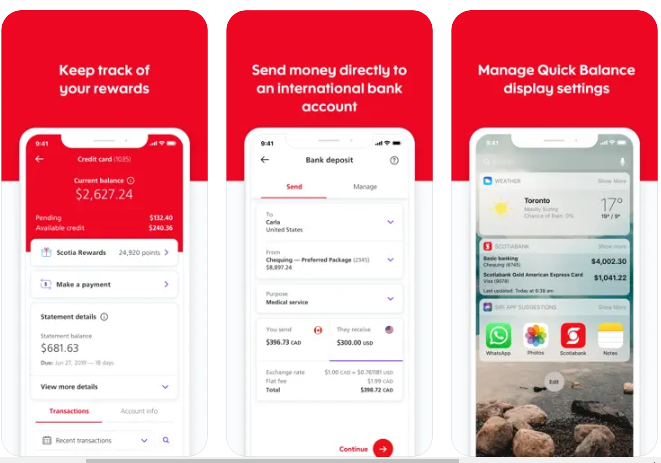 How to use?
To make the sign-in process quicker and easier, the Scotiabank app features biometric authentication. Instead of entering your password every time you sign in, you can use your fingerprint or face recognition.
With the wide range of features that the Scotiabank app provides, you can carry out your day-to-day banking activities on the go or from the comfort of your home.
Whenever you need help, you can get quick answers from the Scotiabank chatbot or have a live chat with a customer care specialist.