Royal Bank of Canada has several mobile apps for its clients — RBC Mobile App, RBC Rewards App, and RBC Launch.
Features
RBC Mobile App
RBC Mobile App's features include:
Keeping track of your account balances and transactions

Transferring funds between accounts

Sending money to almost any country and region

Paying bills

Applying for new bank products

Scheduling calls and appointments with RBC representatives

Monitoring and managing your investments
RBC Rewards App
With the RBC Rewards App, you can:
Check your reward points balance

Redeem your reward points for gift cards, merchandise, financial rewards, and charity donations

Pay your credit card balance or pay a bill with your reward points

Send money using your reward points

Shop with your reward points at Apple and Best Buy stores

Book flights, hotels, or car rentals with your reward points
RBC Launch
RBC Launch, previously known as RBC Wallet App, represents a space where you can try the newest banking features. RBC Launch features include:
Dashboard of financial activity that enables you to review your account balance and your recent transactions and forecast your upcoming income and expenses
Cash@Hand — a concept helping you visualize how much cash you'll have at the end of the month, taking into account your predicted financial activity
Exporting your upcoming banking activities from RBC Launch to your Apple and Google Calendars
Splitting your expenses with anyone in your social network — friends and family members
According to the website, among the next move tools is an opportunity for users to provide feedback within the app for various features. Once implemented, this feature will help the RBC team get valuable insights from users on how to improve customer experience further.
How to download?
RBC Mobile App and RBC Rewards App are available both on the App Store and Google Play. RBC Launch is available only on the App Store at this time.
RBC at Google Play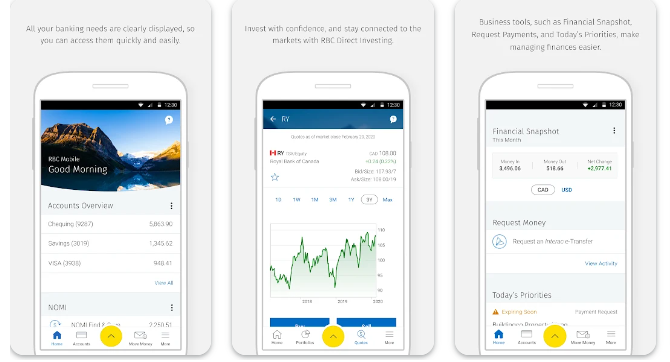 RBC at App Store
How to use
The three apps from RBC serve different needs of their clients.
RBC Mobile App is a great tool for both personal and business banking. With this app, you can view your balances, transfer funds between accounts, make payments, send money, and apply for new bank products or services. You can do it whenever you need, on the go, or from the comfort of your home.
RBC Rewards App helps clients manage their reward earnings and redeem them for flights, hotels, car rentals, and more.
RBC Wallet App is actually a space where you can try the newest banking features. The feedback feature is still under development.