How to download
The Flexiti app can be downloaded from its website via a redirect link, and the app can also be uploaded to the App Store or Google Play. It has no special requirements and is easy to install. The compatibility with your device and country is checked immediately. The active download button will not be displayed if the app is unavailable in your country.
How to use
You must open an account and apply for a Flexiti card and a credit line. Once you are approved and know your credit line, you can use the system and enjoy your shopping. The system is beneficial for both buyers and sellers. Buyers are relieved of excessive expenses that strain their cash flow and can still enjoy their purchases. Sellers can attract more customers and increase cash flow. Retailers simply enter the number of credits customers want and provide details about the promotion terms.
Customers can apply for a credit in-store and receive an approval within minutes.
How to sign in
Account number, personal identification, security question, and password are required for registration. In addition, Flexiti card numbers or username and password are required for further registration. If you wish, you can use the "Remember me" option, and your login details will be automatically inserted for future logins.
Features
The app is not overloaded with superfluous information but offers everything you need as a system customer.
You can use it to:
apply for a loan;

activate your account;

work with financing plans and returns;

review revolving purchases and refunds; use the payment calculator;

view the approved credit amount and terms of use;

personal profile information;

merchants can arrange instant approval for their customers;

customer assistance section.
Future upgrades may add more features for the convenience of buyers and merchants.
Flexiti at Google Play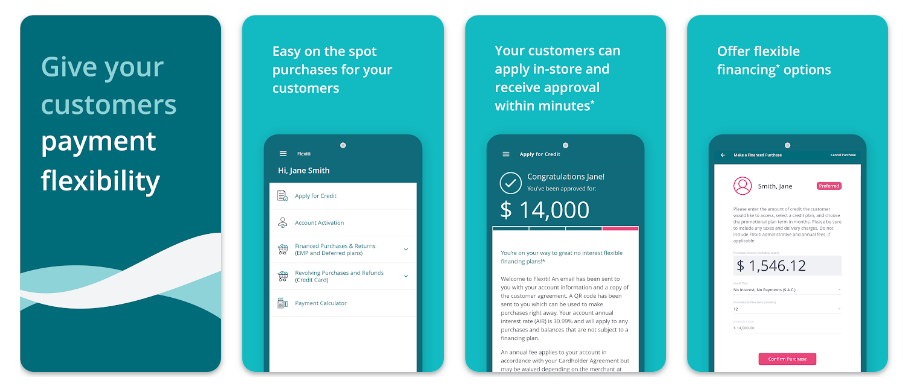 Flexiti at App Store