How to download?
Using a mobile phone to perform financial operations is becoming a more preferred way, thus the company launched its mobile application to answer the market demand. Besides using the app you do not have to worry about holidays and can access it any day any time. The Coast Capital app can be downloaded either from the active link on the website or directly from Google Play (Android) and App Store (for iPhone users).
Also, you can get to the app store of Google play by doing an online search for the application.
Make sure that the app you download has the Coast Capital emblem and is available for Canada. If you try to download it from any other place, you will be informed that the product is not available in your country.
Coast Capital Savings at Google Play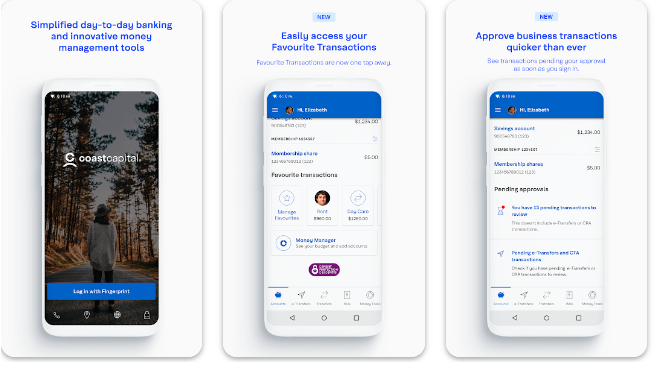 Coast Capital Savings at App Store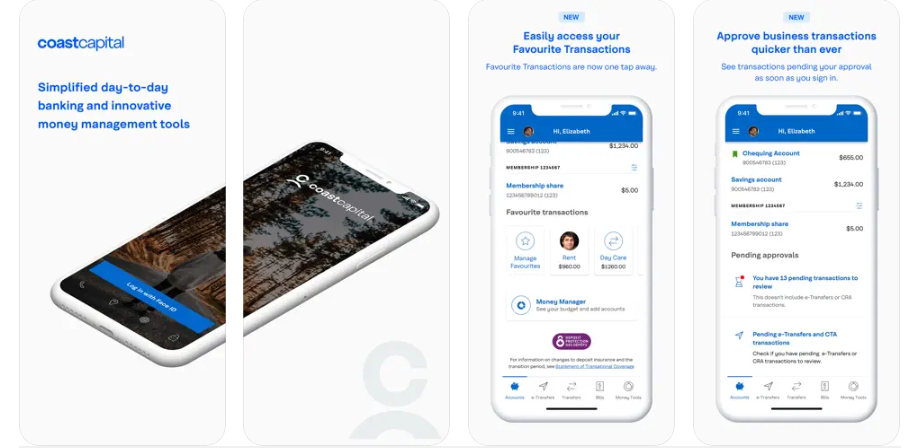 How to use?
The app allows you to set up your profile, and enter personal data and ID.
In the upper left corner, you will see the menu of available items, and when you open each item you will get tips on how to use it and see the available features for each item.
The bottom area is designed for easy navigation by simply sliding to the desired element. For example, you can select the Accounts, Electronic Transfers, Remittances, Bills, and Money Tools section;
If you click on the sandwich with the warning sign, you will be directed to the transactions waiting for your approval.
In the Budget section, you can access the visualization of your expenses and the categories of your spending.
Blocking a lost card is possible in the app in the "Manage my debit cards" section. You can also select whether you want to block the card if it was lost or just damaged and therefore you need a new card.
In the "Mobile deposit" section, you can manage your accounts, selecting amounts to deposit.
If you want to make a transfer, you can easily do it in the "Transfer" section by filling in the transfer form with the amount and the type of transfer (between your own accounts or to another Coast Capital member).
Without logging in, you can access information about your account balance.
Features
The mobile application facilitates a number of operations required for banking on the go, such as:
everyday transactions such as paying bills;

money management tool is a personal tool for smart control over your finances;

debit card management not only allows you to report a lost or stolen card, but also to order a new one;

digital void-check is a way to set up pre-authorized debits, payroll, etc.;

personalization tools that allow you to customize your app to your liking, for example, by adding a photo and choosing a background image (wallpaper);

quick view of your account balance, for which you do not need to log in;

logging in with your fingerprint.
Coast Capital is constantly working to improve its services and it may be that even more features will be included in the current version of the app.