How to download?
The Cash Money app is available on the App Store and Google Play. It's an app that does not take up much space on your device and can be installed quickly. It was downloaded more than 50 thousand times from Google Play and has a rating of 4.6.
You can access the App Store or Google Play directly from the company's website, which is even more convenient because it takes you directly to the app you want to use, rather than having to check if it's the right one.
Cash Money at Google Play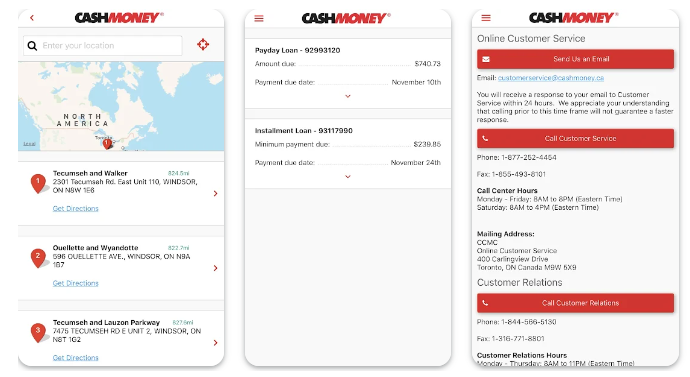 Cash Money at App Store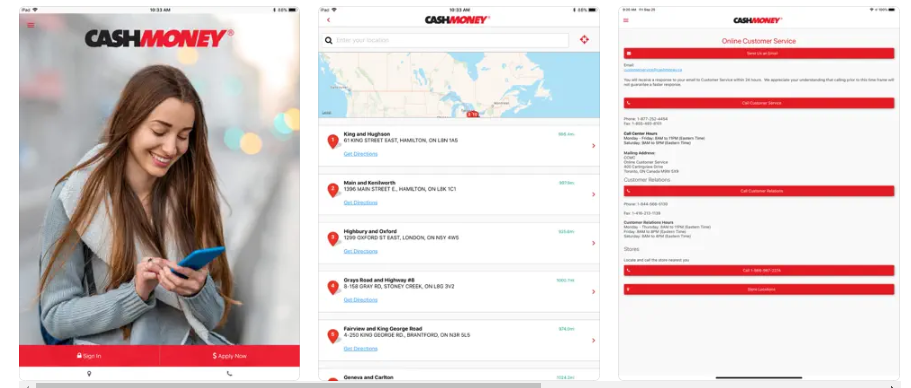 How to use?
The app's interface is simple and intuitive, plus there are hints to help you get the most out of this tool.
With the app, you can set up your profile or use existing credentials and fill out information for your personal profile that is used to check your credit score and identify yourself.
For your reference, please see the "Loan Interest Rates and Terms" section.
When you log in, you can stay logged in on your device or log out until the next session if you wish.
You can use the app to view lender branches near you.
If something is not clear when using the app or is not working as expected, the FAQ section is available and you have the option to contact company support.
All details about your current outstanding and repaid loans can be found in the "My Loans" section, including information about the type of loan, the amount, the outstanding amount, the term and the interest rate, and the loan agreement ID.
How to sign in?
Sign-in requires you to enter your registration e-mail and password.
Features
The cash Money app is free and does not take up many resources on your device. It is easy to use and all the company's services are available to you 24/7 online.
All the current addresses of the company's branches can be found in the app, and it's handy when you are looking for a location near you.
You can contact customer service directly from the app and your question will be resolved.
All your loans with this lender are displayed in one place and you can monitor outstanding balances, active loans, their term, and interest rate.
The terms and interest rates for the loans are available in the app.
You can apply for a loan, select the loan amount you want, and provide more details about the loan when you submit the application. The approval of the loan is fast and does not require any paperwork from you.
You can link your bank account to ensure quick transactions, manage monthly expenses and focus on other important tasks.
It is possible to apply for refinancing through the app.
The approval decision takes only a few minutes.