Features
Capital One Bank offers customers to download its mobile application that simplifies managing their finances. Customers with iOS or Android smartphones can easily download it from the App Store and Google Play. They can use it to access their virtual cards securely and use it as they wish, for example, to make purchases online without using their actual card number. Also, they can see how many rewards they've racked up and quickly redeem their rewards right within the app. Moreover, customers can find a built-in Capital One assistant in the app to help them keep track of their finances by sending notifications.
Moreover, taking loans, ordering credit cards, and opening accounts in the mobile app are possible without visiting the office. Customers can pay their bills within a couple of taps or set up an AutoPay - the function that would automatically pay their bills. They can simply send and receive money transfers and deposit checks by taking a photo in the app.
Generally, the bank's mobile app gives customers access to their bank accounts. As a result, they can manage their finances, make necessary payments and order the financial products provided by Capital One Bank without visiting the office. iOS and Android versions of the application have almost similar functions, but there are some differences in the interface's design.
How to download?
Customers can easily download the bank's application using iOS or Android. They can type the bank's name in the search field or find a required link on Capital One Bank's website. The application is called Capital One Mobile.
Capital One at Google Play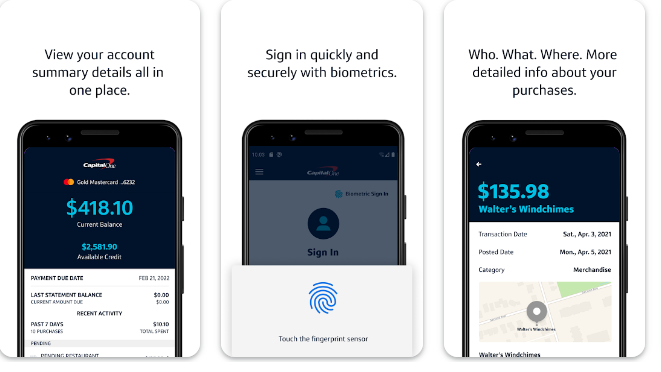 Capital One at App Store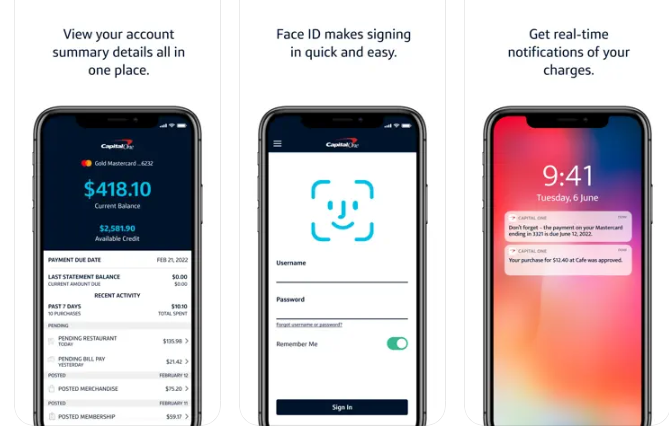 How to use?
First of all, customers need to pass the verification. Then, they will need to enter their username and password. Then they can set up the verification via a fingerprint or face scanner; after that, customers can use the application just like if they visited the bank. They can order a new credit card or apply for a loan. They can pay bills or make other payments. They can send and receive money transfers from across the country. This application is needed for customers to stay on top of their spending and view enhanced transactions in real-time. Also, they can use other helpful services such as CreditWise, which allows them to see their credit scores for free or lock their credit or debit cards if they were stolen or lost. The application is available 24/7, so customers can use it anytime and anywhere.