How to download?
The Borrowell mobile app is available for download on Google Play and App Store. If you live in Canada and your device is compatible, you can download this app and use it on your device.
It requires less than 100 MB on your mobile device. When you install it, you need to give the app the appropriate permissions, and then it will work properly.
Borrowell at Google Play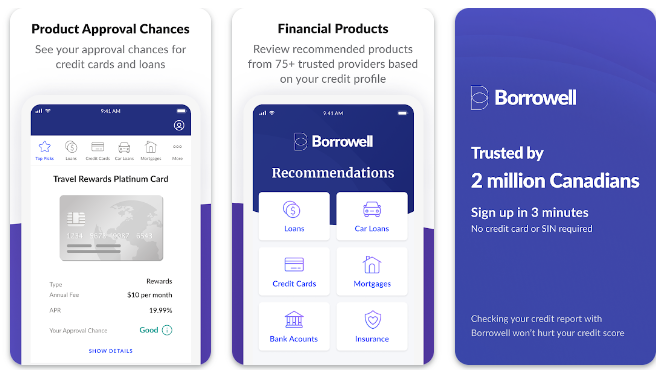 Borrowell at App Store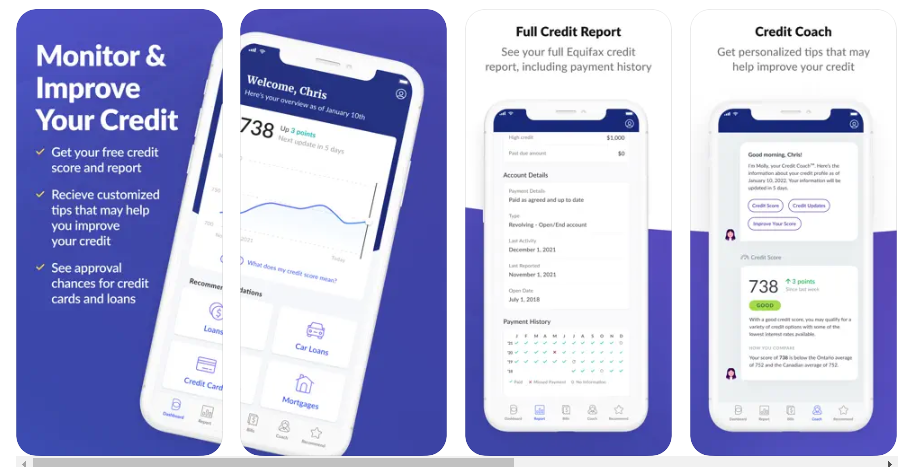 How to use?
In order to use this app, you will have to create an account and enter information for identification and access to your credit history. You can choose the needed date and see your Equifax credit score report. It will give you a chart and calendar where you will see dates of successful loan repayments and missed ones. In the payment history, you will get is like:
paid;

missed payment;

information is not available for the date.
Molly, your personal credit assistant, would give you tips about your current credit score, the opportunities it gives you, and ways how to improve it. In this section, you will be given information about the dynamics of your credit score compared to the last week.
The product approval chances section gives an idea about your perspectives to get a loan approved. It includes:
loans;

credit cards;

car loans;

mortgages, etc.
In each category you will be given information about annual fee, APR and your chances for approval, plus you can get more detailed information in each section.
It takes only 3 minutes to get information about your credit score. You can see collections on your file, bankruptcies . You can monitor if you have any forgotten outstanding payments which harm your credit score and can settle this before trying to apply for a bank loan. In addition all your enquiries via Borrowell as considered to be soft enquiries and unlike hard enquiries when the lender is doing the check on your file it does not reduce your score.
Using this app allows you to find whether your credit report is correct an if no, errors can be reported and corrected.
How to sign in?
When registering, you must enter your valid email address, which will be used as an identifier for your account.
Features
This app is useful for all ages. Young people are able to monitor their perspectives on loan and credit score dynamics. Besides, it is possible to stop fraudulent activity with your credit score and prevent damage.
It shows bankruptcies, collections, payments, and missed payments on your loans. Using such a tool you basically eliminate the chances to forget about some outstanding payments which could cost you approval of an important loan under a good interest rate.
This app is free and gives you dynamics weekly. All your inquiries though Borrowell is considered to be soft ones unlike the ones done by the lenders. Inquiries done via the app do not reduce your credit score.
You are not pressured to buy any financial product.
The app is using bank-level data encryption
You get personalized recommendations from a robotic financial assistant.